AGENTS FOR THE ARTS & CRAFTS HOME
The Arts & Crafts Home is ready to grow, and we now are looking for agents, and to this end we have devised a new and unique business model.
Agents will need time, energy, creativity, imagination, and no capital investment to work with a globally acknowledged market leader. All you will require is a computer with internet access, and you can begin to earn commissions as soon as you start.
Initially we are looking for agents in the following territories: Australia , Canada , every North American State, India, Japan , China , Germany , New Zealand and Austria.
You can work with interior designers, architects, decorators, upholsterers, curtain makers, theatres and local historic groups. Recommend to your friends and colleagues, communicating and recommending the designs of the Arts & Crafts Movement, William Morris and Charles Rennie Mackintosh. You can promote though local and specialist professionals, collectors, dealers and retailers, with our advice and support always available.
We will receive the order from your territory and process the order, co-ordinate packing, shipping and delivery of the items to the client. You will be the sole agent for a nominated territory, which may be a city, state or country. We will copy the agent in with every email pertaining to the order, allowing the process from inception to completion to be monitored by the agent. (In the case of non English speaking countries, translation will be necessary)
We record the delivery address of each order, and those orders arising from your territory will be recorded, and at the end of each calendar month we will credit your credit card or bank account with 20% of the total gross sales originating in your territory.
Q. How can we guarantee our honesty?
A. With our 'Agents Forum' where all agents can air their opinions, views and observations, sharing their insights, tips and advice on how to succeed as an agent, and most importantly airing concerns (which we hope will never arise).
The agents will have free and open intercommunication - an open forum (open, but secure access for agents only) open and clear. Agents will sign in with a user name and password.
The worldwide network of agents and associates is built upon honesty and trust, and all can exchange experiences, assistance, tips, advice etc...
We have a vetting procedure for our security as you will be representing the Arts & Crafts Home, and we will require 2 verifiable character references and your bank details to enable us to transfer funds to your account.
We will involve agents in the major decision processes and development strategy of the company, opening the overall business strategy. But local control, promotion, advertising, marketing will be your individual responsibility.
Your thoughts, ideas, input and inspiration will always be welcome here.
Finally, you can nominate new agents, and through your recommendation you will receive 5% of the new agent's gross sales for 3 months.
ARTS & CRAFTS HOME SYSTEM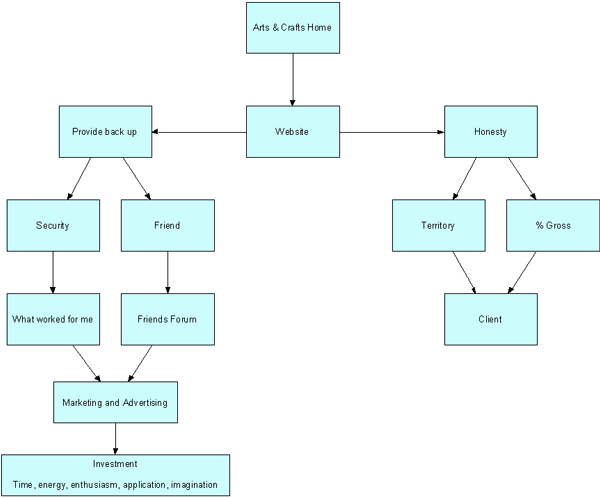 OUR HONESTY POLICY
The underlying principles supporting the network are truth and honesty. I know this is an unusual approach to business, but live my life committed to truth and honesty and I am willing and happy to work with others on the same basis.
"You can operate within the law but still cheat, mislead and otherwise perform dishonest acts. It seems OK to exaggerate or cheat as long as you do not actually lie. Hiding the truth through omission is the same as a direct lie. Is this the easiest or least expensive way of doing business? No, but it is the only honest way."
"We know the truth, not only by the reason, but also by the heart ". Blaise Pascal.
"The most dangerous untruths are truths moderately distorted". Georg Lichtenberg
"A lie has speed, but truth has endurance". Edgar Mohn
Mark Golding