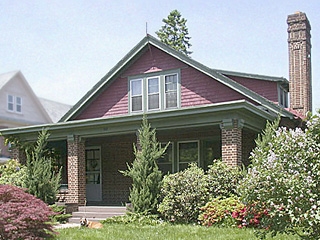 Location and general information
Address:
The Weaver House
Williamsport
North-Central Pennsylvania

Bedroom(s): 3
Bathroom(s): 2
Size: 2320m2


Description:
This Arts & Crafts home, fully intact and in fine condition, in the 'California Bungalow' style with its classic structural integration of fireplace and front porch is situated in a quiet neighborhood, facing South overlooking a large, lovely park, nearby a major health system and schools, in a region famous for hunting, fishing, and outdoors recreation. The city has a full complement of civic and arts organizations, and a strong architectural heritage. It was built in 1915 to 'Millionaire Row' standards in 'The City of Millionaires' by architect Charles H. Weaver for my Grandfather and has never before been on the market. 3 bedrooms; newly-renovated kitchen; 2 newly-renovated full baths (incl. private entrance from master bedroom upstairs); comfy hot water heat with oil furnace; new 200 amp mains; new gas and water services; new roof. 2320 sq.ft., not including the numerous large closets, massive masonry front porch, full basement with large recreation room, enclosed back porch, 2nd floor sleeping porch, under-eaves storage, the separate 2-car garage, or the 65' by 148' corner lot with luxurious plantings. Williamsport, a city in a metroplitan area of about 75,000 souls, is set in a scenic region of dense forests, mountains and farms. Its wealth was established by the 19th century lumber business leading to an enduring architectural heritage and a rich musical culture which continues to flourish. Little League Baseball was born in Williamsport, yearly host to its World Series. The region is reknowned for hunting in the mild Winter, striking scenic foliage in the Fall, and fishing and outdoor sports in the Spring and Summer. Under four hours by car from New York City, Philadelphia and Pittsburgh.