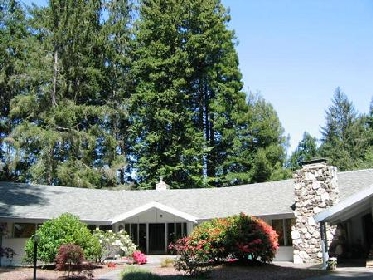 Location and general information
Address:
1958 Mid-Century Custom Home
Eureka
California

Bedroom(s): 5
Bathroom(s): 3
Size: 4723m2


Description:
This elegant, architecturally significant Mid-Century custom home designed by George Knight has many original features including built-ins, paneling, fireplaces, and hardwood floors, all beautifully preserved. With its spacious single story layout, it is perfect for an extended family or for entertaining. Its many windows bring in natural light and provide views of its gorgeous wooded setting. Located at the end of a private lane on 1.47 acres with extensive decking, it's a wonderful sanctuary. Some of its interior features include curved walls and unusual angles throughout, original ash, birch, and Philippine mohogany paneling and cabinetry, hardwood floors and berber carpet, generous storage space including attic storage, an enormous kitchen with updated appliances, and much, much more. Eureka California is known for its Victorian homes, many of which have been restored or preserved. However, it is also home to some stunning Mid-Century gems, of which this is the crown jewel. If you want an elegant home with vintage features along with the comfort of a single story layout, this home is perfect for you. With 5 bedrooms and 3 1/2 baths in over 4,700 square feet, there is plenty of space for a large family or for professionals who work at home. The space plan even lends itself to the development of an in-law unit. For more information about this property and to learn about the amenities of Eureka's north coast location, please contact Audrey Kapitan at (800) 884-9740 or audrey@kapnet.net.