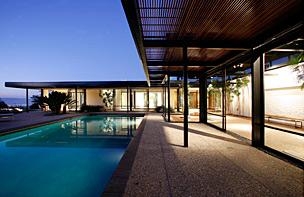 Location and general information
Address:
The Von Hagen Residence
22035 Saddle Peak Road
Malibu

Bedroom(s): 5
Bathroom(s): 5.5


Description:
The Von Hagen Residence, 1975. From this mountaintop vantage above Malibu one surveys the world like an Olympic God, but instead of the Mediterranean, the Pacific is below. Everything lies below: The Santa Monica Bay, Century City, Downtown L.A., Palos Verdes, Orange County, the Simi Hills and the San Fernando Valley. The 13 acre site includes 6 parcels for future development. A long gated private drive ascends through park-like grounds to Ladd & Kelsey's classic modern villa comprising 4 bedrooms and 5.5 baths, den, study, and attached carport. Additional amenities include a modern utility barn big enough to house a large audience screening room, & a full-sized pool.