The Design Gallery
The highly active dealers in Art Deco and Arts and Crafts items including furniture, lighting, metalware and many other items as well as a large offering of 20C costume jewellery. Their beautiful gallery at 5 The Green, Westerham, Kent TN16 1AS Tel 01959 561234 is easily reached off the M25. A 2000ft warehouse is also available to see by appointment. Look out for them at Eltham Palace Art Deco fair and their exhibitions and warehouse open days are much in demand. www.designgallery.co.uk
ART DECO ORIGINALS FOR SALE
We will list Art Deco originals FREE of charge for our clients. We will charge 10% for any sales generated.
We will list Art Deco Furniture, Mirrors, Lighting, Ceramics and Glass, Bronze Figures, Textiles & Carpets, Clocks, Jewellery and metalware.
Please EMAIL for details.
FOR ART DECO ACCESSORIES AND INTERIORS, VISIT 'THE ART DECO HOME'
On this page you will find a selection of Art Deco originals. Please scroll down the page to see a selection of original Clarice Cliff ceramics. We can send full condition reports and additional images upon request.
FURNITURE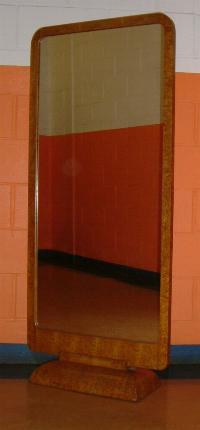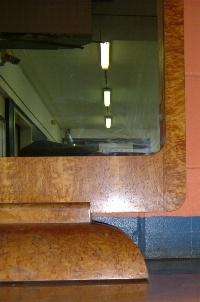 ART DECO CHEVAL MIRROR
Beautiful quality Art Deco dressing mirror, in blond burr elm. The reverse of the mirror is also veneered.
Height 1.640, Width 0.720, Depth 0.270
Price SOLD (ADF2)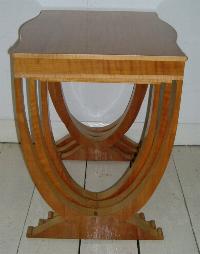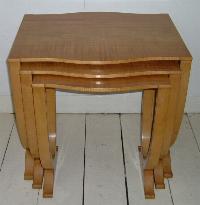 ART DECO NEST OF TABLES
Fine quality nest of 3 Art Deco tables, in sycamore and satinwood, made by the Token Works.
Height 0.560, Width 0.610, Depth 0.470 (largest table)
Price SOLD (ADF1)
ART DECO BRONZES & SCULPTURE
COMING SOON!
ART DECO CERAMICS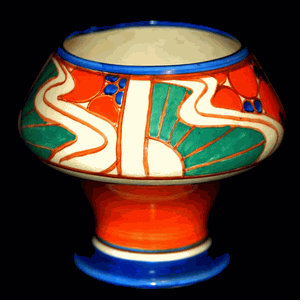 SUNRISE Vase by Clarice Cliff in the Sunrise pattern and shape# 341. Excellent condition. No damage or restoration. Size 5 inches tall and 19 inches around the widest part. Signed "Fantasque by Clarice Cliff". Price £775/$1525.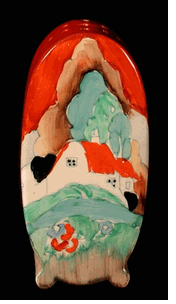 FOREST GLEN Sugar Sifter by Clarice Cliff in the Forest Glen pattern and Bonjour shape. Size is 5 inches tall. Minor stress line underneath were red cork fits. Only marked "Newport Pottery England". Price £565/$1149.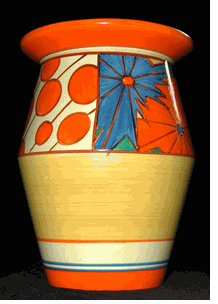 UMBRELLAS & RAIN Shape 342 Vase in the Umbrella & Rain pattern. Size is 8 inches tall. Nicely painted and banded. Back-stamp is Fantasque by Clarice Cliff in large handwritten script. Invisibly repaired chip to rim. Price £625/$1225.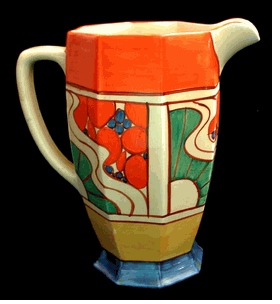 SUNRISE Athens Jug/Pitcher in the Sunrise pattern. This is the largest size at 8 inches tall. No damage or restoration. Back-stamp is Fantasque by Clarice Cliff in large handwritten script. Size number 24. Price £745/$1450.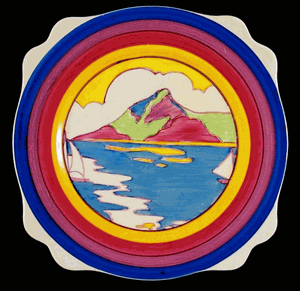 GIBRALTAR Large Leda shape plate in the Gibraltar pattern. Size is 9.5 inches wide. No damage or restoration. Couple of minor utensil marks. Back-stamp is Fantasque Bizarre by Clarice Cliff. Price £545/$1055.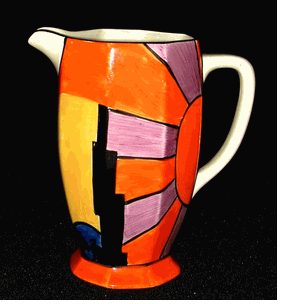 SUNRAY Athens Jug/Pitcher in the Sunray pattern. Excellent condition. No damage or restoration. Size is 6 inches high. Size number 42. Signed "Bizarre by Clarice Cliff". Price £895/$1745.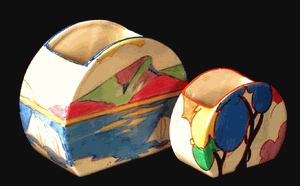 GIBRALTAR Bowl by Clarice Cliff in the Gibraltar pattern. This is the larger size bowl and is pictured next to the smaller size of this shape. Size of this piece is 4.5 inches wide by 3.75 tall. No damage or restoration. Signed Bizarre by Clarice Cliff. 5 yachts on the pattern. Price £565/$1095.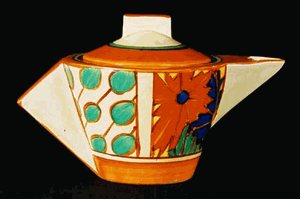 Umbrellas & Rain Conical Teapot by Clarice Cliff in the Umbrellas & Rain pattern. Signed "Fantasque by Clarice Cliff". Size 4.5 inches tall by 7 inches wide. This is the smaller size Conical Teapot. Slight repair to inner rim of lid. Price £565/$1095.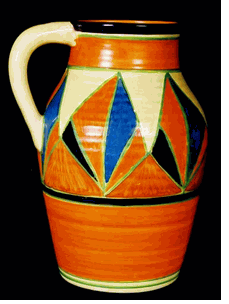 ORIGINAL BIZARRE Lotus jug by Clarice Cliff in an Original Bizarre pattern. Size is 11 inches tall. Signed "Bizarre by Clarice Cliff" in large handwritten Script. Also has "Lotus/Shape" and "Reg 668241" impressed on the base. Dates to about 1928. No damage or restoration. Has had some repaint to the Blue and Purple. See the matching Bowl on the £200 to £300 page. Price £645/$1250.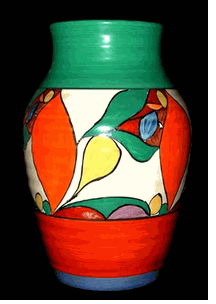 WHISPER ISIS VASE Vase by Clarice Cliff in the Whisper pattern and Isis shape. Size is 10 inches tall. Excellent condition. Signed "Bizarre by Clarice Cliff" in large script. Price £895/$1745.

ALTON Very tall Vase in the Alton pattern. Signed "Bizarre by Clarice Cliff". Size is a massive 18.5 inches tall. No damage or restoration. Condition is superb. Price £1350/$2635.
FRAGRANCE Stamford Teapot in the Fragrance pattern. c1935. Size 6 inches tall. Nicely painted. Good condition. Only flaw is a factory grind to underneath of the spout, which I am having re-glazed. Signed "Bizarre by Clarice Cliff". Price £850/$1650.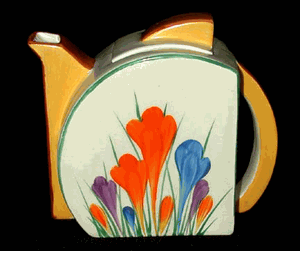 CROCUS STAMFORD Teapot by Clarice Cliff in the Crocus pattern and Stamford shape. Has the early Angular spout (later refined into the Teardrop shape). Excellent condition. No damage or restoration. Paintwork is excellent. Size 4.5 inches tall. Couple of very small circular firing flaws to the top. Signed "Bizarre by Clarice Cliff". Price £685/$1265. SOLD.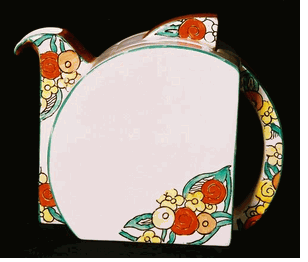 Stamford Teapot Stamford shape Teapot in the Stamford pattern. Size 4.5 inches tall. No damage or restoration. Signed "Bizarre by Clarice Cliff". From the early 1930's. Price £545/$1050.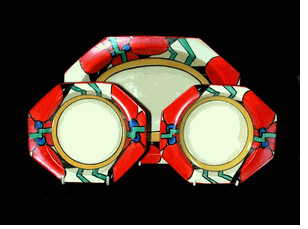 RED PICASSO FLOWER Serving Bowl (10.5 inches) and two smaller bowls (6 inches) in the Red Picasso pattern. Excellent condition. Painting is truly superb. Each has "Bizarre by Clarice Cliff" back-stamp. Larger Bowl SOLD. Small bowls £265/$515 each.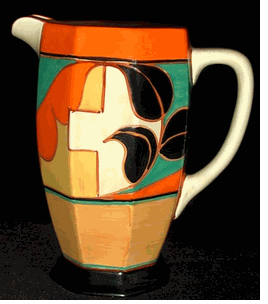 Feather & Leaves Athens Jug/Pitcher in the Feather and Leaves pattern. Size 7 inches high. Superb condition. No damage or restoration. Signed "Fantasque by Clarice Cliff". Price £775/$1500.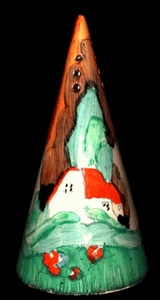 FOREST GLEN Conical Sugar Sifter in the Forest Glen pattern. Size 5.5 inches high. Very nicely painted. No restoration. Couple of minor nicks to the underside of the base. Signed "Clarice Cliff". Price £1100/$2145.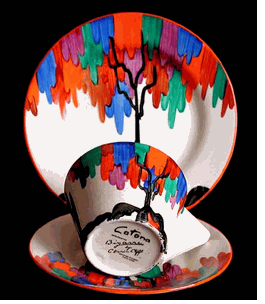 LATONA TREE Conical Trio cup/saucer/plate) in the Latona Tree pattern. Plate 7 inches wide. Excellent condition. No damage or restoration. Signed "Clarice Cliff" and "Bizarre". Price £695/$1345.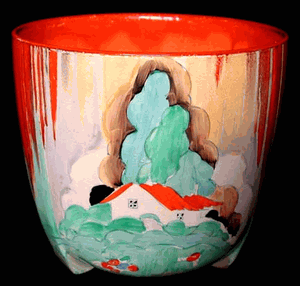 FOREST GLEN Large Jardiniere by Clarice Cliff in the Forest Glen pattern. Size 7 inches tall and 7.5 inches wide. Excellent condition. No damage or restoration. Signed "Clarice Cliff". Being very critical slight rubbing to the inside. Price £965/$1875.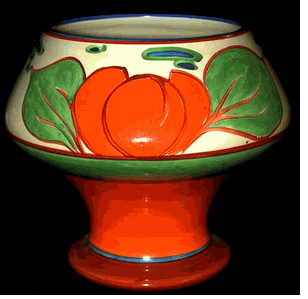 ORANGE LILY Vase by Clarice Cliff in the Orange Lily pattern and shape# 341. Excellent condition. No damage or restoration. Size 5 inches tall and 19 inches around the widest part. Signed "Fantasque by Clarice Cliff". Price £725/$1400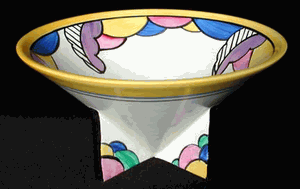 LATONA CONICAL Conical Bowl in a Latona pattern. Size 7.5 inches wide. No damage or restoration. Bit of paint loss to one of the blue "pendants". Signed "Clarice Cliff" and "Bizarre". Price £765/$1485.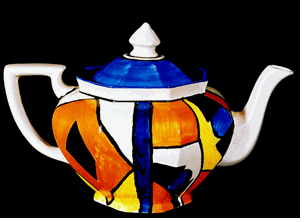 DIAMONDS A superb Teapot in the Athens shape and Diamonds pattern. This is the large Athens Teapot (size number 24). Excellent condition. Signed in large Script "Bizarre by Clarice Cliff". Price £1250/$2435.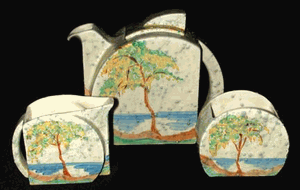 PATINA Stamford shape Teapot, Milk and Sugar bowl in the Patina Coastal pattern. Each piece signed "Bizarre by Clarice Cliff". Excellent condition. Teapot 5 inches high. Price £975/$1900.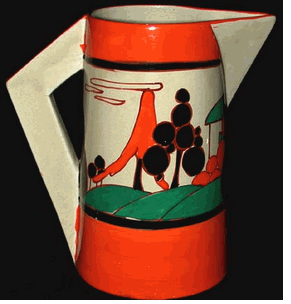 TREES & HOUSE Conical jug in the Orange Trees & House pattern. Size 6.5 inches tall. Very nicely painted. Spider crack to base. Signed "Fantasque by Clarice Cliff". Price £575/$1125.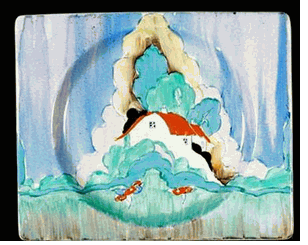 NEWLYN Biarritz shape plate by Clarice Cliff, with a full Newlyn pattern. Size 9 by 7.5 inches. Excellent condition. No damage or restoration. Back-stamped "Biarritz". Date stamped 1935.Price £675/$1300.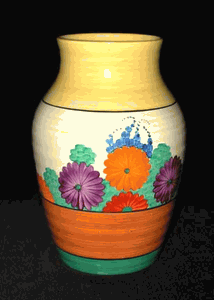 GAYDAY ISIS ISIS jug in the Gayday pattern. Excellent condition. No damage or restoration. Size 9 inches tall. Signed "Bizarre by Clarice Cliff". Price £595/$1155.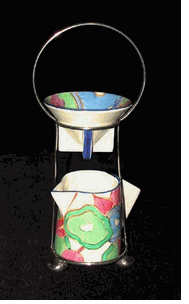 BLUE CHINTZ Rare Conical Milk and Sugar Bowl with Metal Stand in the Blue Chintz pattern.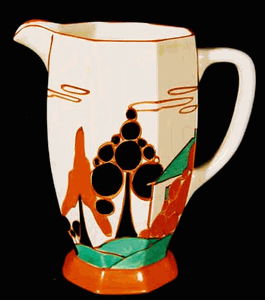 Trees and House Athens jug in Orange Trees and House pattern. Size 7 inches tall. Very nicely painted. Signed "Fantasque Bizarre by Clarice Cliff". Also has impressed size # 36. Very slight nick to bottom rim has now been invisibly fixed.
GAYDAY Teapot, Milk and Sugar in the Gayday pattern and Stamford shape. Good condition, no damage or restoration. The Milk jug features the rare "upturned" spout. Slight fading of purple flowers. Each piece signed "Bizarre by Clarice Cliff" and also marked "Gayday" Price £1295/$2525.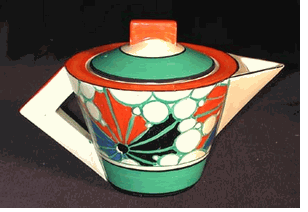 BROTH CONICAL Teapot by Clarice Cliff in the Conical shape and Broth pattern. Large size Teapot. Six inches high. Size Number 24. Nicely painted. A slight nick to the spout and lid rim invisibly repaired. Signed "Fantasque by Clarice Cliff". Price £895/$1740.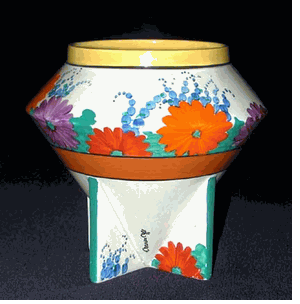 GAYDAY Great shape Vase in the Gayday pattern. Shape number 400. Size 6 inches high. Signed "Clarice Cliff" on the side. Excellent condition. Wonderful paintwork. Only a slight glaze mark on the inside. Price £725/$1415.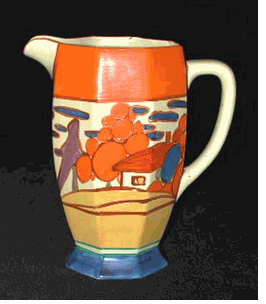 Trees and House Athens shape jug/Pitcher in the pastel Trees and House pattern. Size 7 inches high. Signed "Fantasque By Clarice Cliff".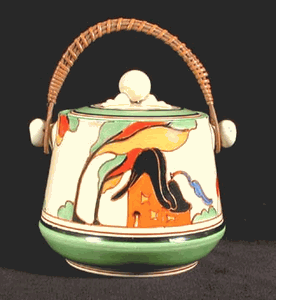 Orange House Biscuit Barrel in the Orange House pattern. Size 6.5 inches high. Paintwork excellent. The white mark in the picture is "flash glare", has had some minor restoration to the rim. Signed "Bizarre Fantasque by Clarice Cliff". Price £765/$1475.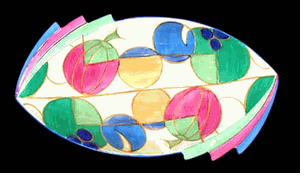 MELONS A Superb Daffodil Bowl (shape 475) in the Pastel Melons pattern. Size 12.5 inches long. Paintwork is great with no fading or loss. A very fresh looking piece. Slight invisible repair to fins. Signed "Bizarre by Clarice Cliff". Price £585/$1135.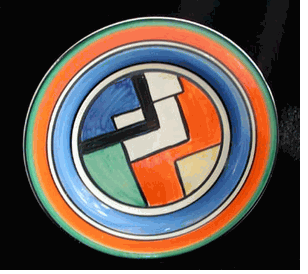 MONDRIAN Plate by Clarice Cliff in the very, very rare Mondrian pattern. Good condition. Paintwork is excellent. No restoration. Has a scratch to the banding on the outside of the rim. Size 7 inches wide. From about 1929. Signed "Bizarre by Clarice Cliff". Price £425/$825.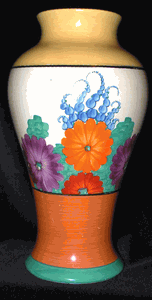 GAYDAY Large Meiping Vase in the Gayday pattern. Excellent condition. Size 9 inches tall. Signed "Bizarre by Clarice Cliff". Price £665/$1295.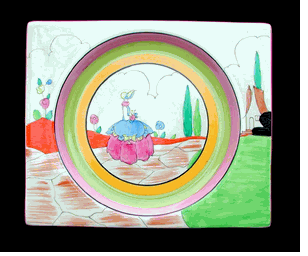 IDYLL A superb plate by Clarice Cliff in the Idyll pattern and Biarritz shape. Excellent condition. No damage or restoration. Size 7 by 6 inches. Signed "Bizarre by Clarice Cliff". From about 1934. Price £625/$1215.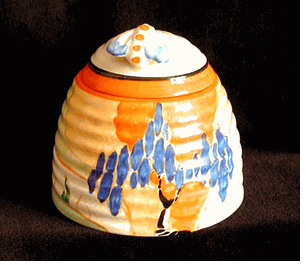 WINDBELLS HONEYPOT Large size Honeypot in the Windbells pattern, Size 4 inches high. Paintwork is excellent. No restoration. Lid has a slight nick near the spoon hole. This can be professionally restored free of charge (at you choice). Signed "Bizarre by Clarice Cliff" and "Fantasque". Price £695/$1345.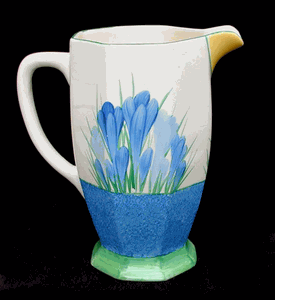 BLUE CROCUS Athens shape jug in the Blue Crocus pattern, Size 6 inches high #42. Excellent paintwork. Has had some nibbles on the base professionally repaired (now invisible). Signed " Bizarre by Clarice Cliff". Price £495/$965.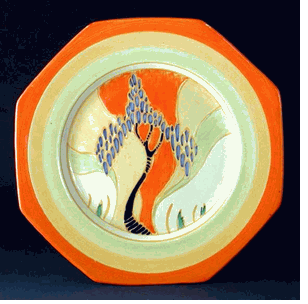 Windbells Octagonal plate in the Windbells pattern. Size 21cm wide. Very good condition. Signed "Fantasque Bizarre by Clarice Cliff". Price £675/$1315.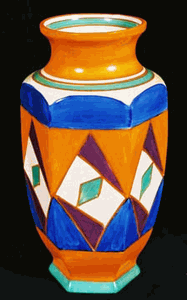 ORIGINAL BIZARRE A large Hexagonal vase by Clarice Cliff in an Original Bizarre pattern. Shape No 37. Size 11.5 inches tall. Has had a repair to a hairline (now invisible)and repainting to the purple. Signed in large Script "Bizarre by Clarice Cliff". An early piece from about 1928. Price £975/$1900.
SECRETS A shape 341 Vase in the Secrets pattern. Size 6 inches high. Paintwork excellent. Has had a minor hairline on the rim repaired (now invisible). Signed "Fantasque" and "Bizarre by Clarice Cliff". Price £625/$1200.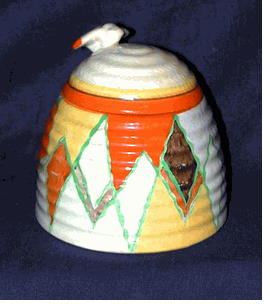 SUNGOLD HONEYPOT Large size Honeypot in the Sungold pattern. Size 3.75 inches high. Very good condition with a slight nick on the lid that has been invisibly repaired. Signed "Bizarre by Clarice Cliff". Price £525/$1025.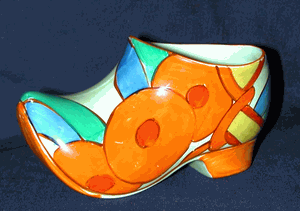 BOBBINS SABOT Sabot/Clog in the Bobbins pattern. Excellent condition. Size 5.5 inches long. Signed "Fantasque Bizarre by Clarice Cliff". Price £545/$1055.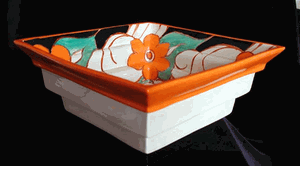 FLOREAT Square stepped bowl in the Floreat pattern. The bowl has four steps (the bottom one is painted black). Shape 367. No chips or hairlines. Slight repainting to the green leaves on the inside. Size 9 inches wide and almost 5 inches high. Signed "Bizarre by Clarice Cliff". Price £545/$1050.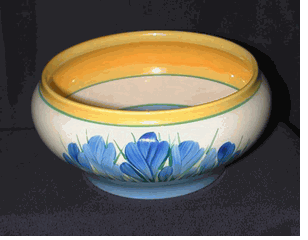 BLUE CROCUS A Bowl by Clarice Cliff in the rare Blue Crocus pattern and the Ivor shape. 5.5 inches wide. 2.5 inches high. Excellent condition. The Blue flowers are very well painted with no loss and are very vibrant. The inside has a yellow banding to the rim and the well is painted Blue. The inside is in very good condition and has not been affected by "Fruit acid" erosion like so many examples. To be hyper critical there are a few scratches to the inside and a little loss to the Blue. Signed Clarice Cliff. Item#C150. Price £565/$1100.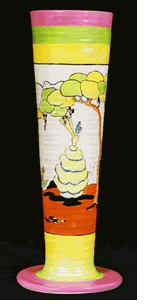 IDYLL A tall vase in the Applique Idyll pattern. Size 12.5 inches tall. Signed "Applique" and "Bizarre by Clarice Cliff". Has had a professional repair to the rim and base. Price £950/$1845.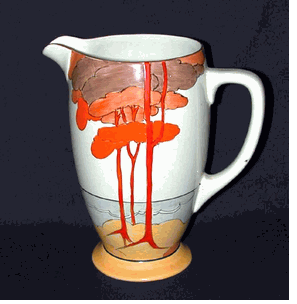 CORAL FIRS Jug/Pitcher by Clarice Cliff in the Coral Firs pattern and Coronet shape. Size 6.5 inches high. Excellent condition. No damage, restoration or paint loss. Signed "Bizarre by Clarice Cliff". Price £575/$1115.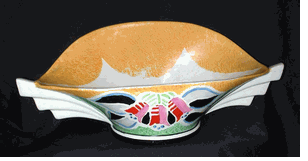 NUAGE DAFFODIL A Clarice Cliff Daffodil shape bowl in the Nuage pattern. Shape Number 450 variation. Good condition. Small chip to the back of the base. Size 13inches wide. From about 1932. Very rare in that the front of the bowl is lower than usual. Signed "Bizarre by Clarice Cliff". See page 156 of The Rich Designs Of Clarice Cliff". Price £675/$1315.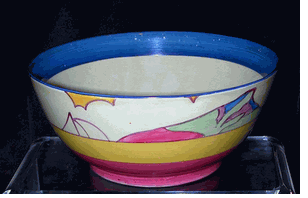 GIBRALTAR A Bowl by Clarice Cliff in the Gibraltar pattern. Size 7 inches wide. Excellent condition with no damage or restoration. Only a few very minor paint flecks to the inside banding. The outside pattern is in terrific condition. Signed "Fantasque" and "Bizarre by Clarice Cliff". Price £545/$1050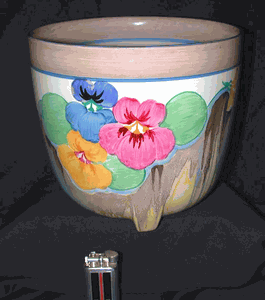 DELECIA PANSIES A large Jardiniere by Clarice Cliff in the Delecia pansies pattern. Size 7 inches high by 7.5 inches wide. Excellent condition with great paintwork. Only a couple of minute losses to the blue. No damage or restoration. Not marked. The lighter at the bottom is to help show its size. Item #C154. Price £550/$1065.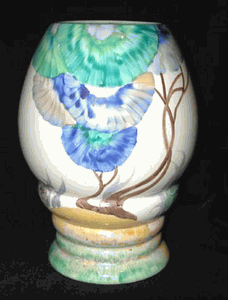 VISCARIA VASE A large shape 362 Vase by Clarice Cliff in the Viscaria pattern. Very good condition with no chips or hairlines. 8 inches high. Signed "Bizarre" by " Clarice Cliff". Item #C67. Price £550/$1065.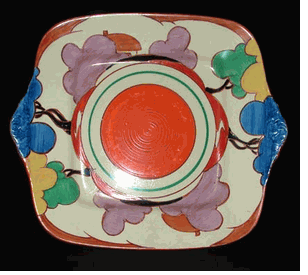 Blue Autumn A large Sandwich plate by Clarice Cliff in the Blue Autumn pattern. Made about 1934. A rare radially painted plate in excellent condition. No chips, hairlines or restoration. Minor paint loss to the orange. The pattern includes two Cottages and four Trees. 11 inches wide. Back-stamp signed "Bizarre by Clarice Cliff" and "Fantasque". Price £535/$1035.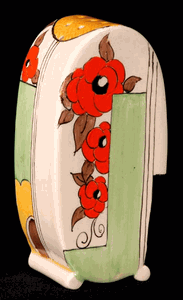 NEWPORT Sugar Sifter in the bonjour shape and Newport pattern. No damage or restoration. Size is 5 inches high. Signed Bizarre by Clarice Cliff and marked with an "S".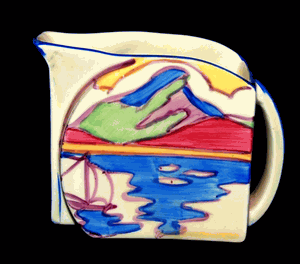 GIBRALTAR Milk jug in the Gibraltar pattern and Stamford shape. Size is 2.5 inches high. The size is for an Early Morning Set, Batchelor Set or Tea for Two. No damage or restoration. Slight loss of glaze to one side of spout. Signed Fantasque Bizarre by Clarice Cliff.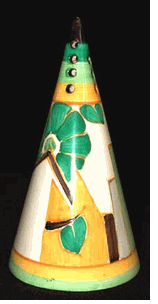 MOONFLOWER Conical Sugar Sifter in the Moonflower pattern. Size 5.5 inches tall. No damage or restoration. Signed "Fantasque Bizarre by Clarice Cliff". Price £875/$1700.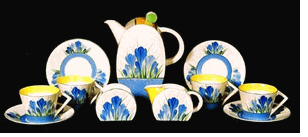 BLUE CROCUS Coffee Set for four in the Blue Crocus pattern and Bonjour shape. Comprising Coffee pot, Milk jug, sugar bowl and four cups and saucers. All pieces superbly painted. The only flaw is a factory grind on the underneath of the Coffee pot spout, which I am having re-glazed. All pieces signed Clarice Cliff. Price £2650/$5175. SOLD
BLUE CROCUS The same set as above, but with two cups and saucers. Price £2150/$4195. SOLD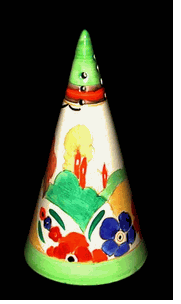 ALTON CONICAL SIFTER Conical Sugar Sifter in the Alton pattern. Size 14cm high. Excellent condition. No damage or restoration. Signed "Fantasque Bizarre by Clarice Cliff". Price SOLD.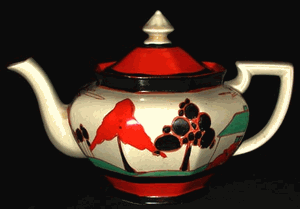 RED TREES & HOUSE Teapot by Clarice Cliff in the Athens shape and Red Trees & House pattern. Size 9 inches from handle to spout and 5.25 inches high. Excellent condition. Nicely painted. Signed "Fantasque by Clarice Cliff". Price £645/$1195. SOLD.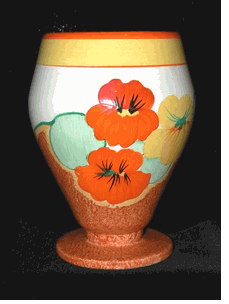 NASTURTIUM A superb Vase in the 363 shape and Nasturtium pattern. Size 6.5 inches tall. Excellent condition. No damage or restoration. There is a slight area to the bottom where it appears that the paintress has missed some of the stippling. Price £650/$1200. SOLD.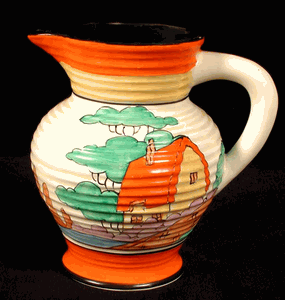 ORANGE ROOF COTTAGE Jug/Pitcher in the George shape (shape number 564) and Orange Roof Cottage pattern. Size is 6.5 inches tall. Excellent condition. No damage or restoration. Being very picky, minor paint fleck to rim at the back. Back-stamp is Fantasque Bizarre by Clarice Cliff. Also marked "George 564". Price £545/$1060.SOLD.
ART DECO FURNITURE
Coming soon...
ART DECO LIGHTING
Coming soon...
ART DECO CLOCKS
Coming soon...
ART DECO GLASS
Coming soon...
ART DECO JEWELLERY
Coming soon...
ART DECO BIOGRAPHIES, ESSAYS AND NOTES
ALVAR AALTO
Hugo Alvar Henrik Aalto (February 3, 1898 - May 11, 1976) was a Finnish architect and designer. He was generally known as Alvar Aalto.
He was noted for his humanistic approach and for being one of the first and the most influential architects of Scandinavian modernism, so much so that he is sometimes known as the "Father of Modernism" in Scandinavia. His work includes architecture, furniture and glassware.
He was a member of the Congres Internationaux d'Architecture Moderne. Major works include the Finlandia Hall in Helsinki, Finland, and the campus of Helsinki University of Technology. Aalto's glassware includes the world-famous Aalto Vase.
He is the eponym of the Alvar Aalto Medal, now considered one of world architecture's most prestigious awards.

Biography

Alvar Aalto was born in Kuortane, Finland. He studied architecture at the Helsinki University of Technology from 1916 to 1921. He returned to Jyväskylä, where he opened his first architectural office in 1923. The following year he married architect Aino Marsio. Their honeymoon journey to Italy sealed an intellectual bond with the culture of the Mediterranean region that was to remain important to Aalto for the rest of his life.
After Aino's death Aalto married Elissa Mäkiniemi.

Works

Aalto's wide field of activity ranged from furniture and glassware designs to architecture and painting. His vase designs are world-famous. He invented a new form of laminated bent-plywood furniture in 1932. Aalto furniture is manufactured by Artek, a company Aalto co-founded. Aalto glassware (Aino as well as Alvar) is manufactured by iittala.
PERFUME BOTTLES

Perfume bottles are essential for safe storage because perfume is volatile and needs containers with very tight fitting lids or stoppers to prevent evaporation. The best ones are also made from coloured or faceted glass or other opaque material to prevent damage to perfume from sunlight.
Perfume was important to early civilisations and some of the earliest perfume bottles have been found in ancient Egyptian tombs dating back to around 1500 BC.

In Venice, glassmakers were producing small highly decorated glass bottles during the Renaissance, although few survive. By the 16th and 17th centuries manufacture had extended to England, France, Bohemia and Silesia. Production continued in Italy - for example, the famous Murano glassmakers produced bottles in coloured glass decorated with millefiori and latticino (strands of contrasting coloured glass used as a trellis work effect) while in Germany they were using white glass, decorated with gilding and enamels.

By the 18th and 19th centuries, perfume containers of great value and beauty were being made in England, using a wide variety of materials including enamel, porcelain and silver. They were often given as love tokens, usually by a man to his betrothed or wife.

Enamel perfume bottles were popular during the 18th and 19th centuries. They were made by the Battersea, Bilston and Wednesbury factories, amongst others. The enamel bottles contained glass phials, with stoppers, to hold the perfume and were decorated with delicately painted flowers, landscapes and classical scenes. Bilston was the biggest and most famous of the factories and Dovey Hawksford probably its best known artist.

Porcelain was another widely used material and many of the famous factories, like Chelsea, Derby and Wedgwood, produced perfume bottles in many shapes and styles including novelty items made to look like nuts, golf balls and shells.

As traditional Victorian style gave way to Art Nouveau and Art Deco, perfume bottles reflected the change. Art Deco bottles were geometric in form, many with elaborate stoppers so moving away from the earlier more feminine and delicate designs.

René Lalique is the best-known of the Art Deco glass designers and, of course, his perfume bottles are very collectible but other makers are also popular. The French glassmaking company Baccarat (company) produced perfume bottles for parfumiers like Jean Patou, Elizabeth Arden, Guerlain and Lenthéric. Of the other French designers of the period, Marius-Ernest Sabino is amongst the best-known. Much of his work was an imitation of the great Lalique but of inferior quality. However, some of his work stands the test of time and is collectable. The poorer work tends to be ill-proportioned and clumsy. Other notable designers of the period include Maurice Marinot, André Thuret and Gabriel Argy Rousseau. Czech glass-making factories also made perfume bottles which have become collectable.
THE BAUHAUS

Bauhaus is the common term for the Staatliches Bauhaus, an art and architecture school in Germany that operated from 1919 to 1933 and briefly in the United States from 1937-1938 and for the approach to design that it developed and taught. The most natural meaning for its name (related to the German verb for "build") is Architecture House. Bauhaus style became one of the most influential currents in Modernist architecture.

The Bauhaus art school existed in four different cities (Weimar from 1919 to 1925, Dessau from 1925 to 1932, Berlin from 1932 to 1933) and Chicago from 1937-1938, under four different architect-directors (Walter Gropius from 1919 to 1928, Hannes Meyer from 1928 to 1930, Ludwig Mies van der Rohe from 1930 to 1933 and László Moholy-Nagy from 1937-1938). These changes of venue and leadership meant a constant shifting of focus, technique, instructors, and politics. When the school moved from Weimar to Dessau, for instance, although it had been an important revenue source, the pottery shop was discontinued. When Mies took over the school in 1930, he transformed it into a private school, and would not allow any supporters of Hannes Meyer to attend it.

Context

The foundation of the Bauhaus occurred at a time of crisis and turmoil in Europe as a whole and particularly in Germany. Its establishment resulted from a confluence of a diverse set of political, social, educational and artistic shifts in the first two decades of the twentieth century.

Politics

The conservative modernisation of The German Empire had maintained power in the hands of the aristocracy and necessitated militarism and imperialism to maintain stability and economic growth. The rise of the left in 1912 galvanised political positions with its ideas of international solidarity and socialism set against imperialist nationalism. World War I ensued in 1914.
In 1917 in the midst of the carnage of the First World War, the Russian workers' and soldiers' Soviets seized power in Russia. Inspired by the Russian workers' and soldiers' Soviets similar German communist factions, most notably The Spartacist League, were formed who sought a similar revolution for Germany. The following year, the death throes of the war provoked the German Revolution, with the SPD securing the abdication of the Kaiser and the formation of a revolutionary government. On January 1, 1919, the Spartacist League attempted to take control of Berlin, this action was brutally suppressed by the combined forces of the SPD, the remnants of the German Army, and right-wing paramilitary groups.

Elections were held on the January 19th and the Weimar republic was established. Communist revolution was still a tangible prospect for many and a Soviet republic was declared in Munich, before it's suppression by the right wing Freikorps and regular army. Sporadic fighting continued to flare up around the country.

Art and Architecture

Art nouveau (or Jugendstil in Germany) had broken the preoccupation with revivalist historical styles that had characterised the 19th century. In the first decade of the new century however, the movement was receiving criticism; impelled partly by moral yearnings for a sterner and more unadorned style and in part by rationalist ideas requiring practical justification for formal effects. Nonetheless, the movement had opened up a language of abstraction which was to have a profound importance during the 20th century. Adolf Loos was the most effective critic, publishing Ornament and Crime in 1908 which argued that the urge to decorate surfaces was primitive. His work was feted by the later modern movement and acted as a catalyst for the abandonment of surface decoration.
Two further influences upon the emergent architectural thinking of the time can be traced from the 1903 directorships of Hans Poelzig to the the Applied Art School in Breslau and Peter Behrens to the Applied Art School in Dusseldorf.

The work of Peter Behrens for the German electrical company AEG. His work attempted to bridge the widening gap between art and mass production. He created clean-lined designs for the company's graphics, industrial design and factories which did not rely on surface decoration, but made full use of newly developed materials such as poured concrete and exposed steel. This work was much admired by the Deutscher Werkbund which had been established in 1907 to bring German manufacturers and artists together.

A number of artists began to develop their own creative languages which relied increasingly on abstraction: the fauvists (c1905) such as Georges Braque and Henri Matisse in France, Cubism developed by Pablo Picasso and Georges Braque (c1908); der Blaue Reiter (The Blue Rider) movement (1911) of Wassily Kandinsky, Paul Klee, Franz Marc and August Macke in Germany; and the Dutch de Stijl (1917) movement that included Piet Mondrian and Theo van Doesburg.
" 1903 Hans Poelzig - directorship of applied art school in Beslau.
" 1903 Peter Behrens - directorship of applied art school in Dussledorf.
" 1906 Wilhelm Ernst founds the Grand-Ducal Saxon School of Arts and Crafts in Weimar (German:Grossherzogliche Sächsische Kunstgewerbeschule) under Henry van de Velde and the Grand-Ducal Saxon Academy of fine arts (German:Grossherzogliche Sächsische Hochschule für Bildende Kunst).

Expressionism

" 1914-1918 Discussions between Saxon state ministry and Fritz Mackensen head of the Grand-Ducal Saxon Academy of fine arts as to the relative importance in the teaching of fine and applied art.
" 1918 Arbeitsrat für Kunst and Bruno Taut and Expressionist architecture
" 1919 Gropius writes the pamphlet for 'Exhibition of unknown architects' -
to go into buildings, endow them with fairy tales....and build in fantasy[sic] without regard for technical difficulty.(frampton p123)
" Gropius argued for autonomy of applied arts, with a workshop-based education for both designers and craftsmen.
" Mackenson argues for artist-craftsmen to be educated in a fine art academy.
" 1919 Gropius becomes head of composite institution consisting of the Academy of Art and the School of Arts and Crafts.

Society

The Bauhaus aimed to teach the arts and crafts in tandem and to bridge the widening gulf between the art and industry.
" 1907 Deutscher Werkbund
Behrens work for AEG forged new links between art and industry. AEG work admired by the deutsche werkbund - a crucial organization for the coming to terms with the age of mechanisation. Improvement of mass housing aim of werkbund.

History of the Bauhaus
Weimar

The school was founded by Gropius at the conservative city of Weimar in 1919, as a merger of the Weimar School of Arts and Crafts (Grossherzogliche Kunstgewerbeschule) and the Weimar Academy of Fine Arts (Grossherzogliche Hochschule für Bildende Kunst). His opening manifesto proclaimed:-
to create a new guild of craftsmen, without the class distinctions which raise an arrogant barrier between craftsmen and artist.(frampton p123)

Most of the contents of the workshops had been sold off during World War I. The early intention was for the Bauhaus to be a combined architecture school, crafts school, and academy of the arts. Much internal and external conflict followed.

Gropius argued that a new period of history had begun with the end of the war. He wanted to create a new architectural style to reflect this new era. His style in architecture and consumer goods was to be functional, cheap, and consistent with mass production. To these ends, Gropius wanted to reunite art and craft to arrive at high-end functional products with artistic pretensions. The Bauhaus issued a magazine called "Bauhaus" and a series of books called "Bauhausbücher". Its head of printing and design was Herbert Bayer.

Many believe that German reform in art education was critical for economic reasons. Since the country lacked the quantity of raw materials that the United States and Great Britain had, they had to rely on the proficiency of its skilled labor force and ability to export innovative and high quality goods. Therefore designers were needed and so was a new type of art education. The school's philosophy basically stated that the artist should be trained to work with the industry.

Funding for the Bauhaus was initially provided by the Thuringian state parliament. Parliamentary support for the school eminated from the Social Democratic party. In February 1924, the Social Democrats lost control of the state parliament to the nationalists, who were hostile to the Bauhaus's leftist programme. September saw the Ministry of Education place the staff on six-month contracts and cut the school's funding in half. For Gropius, who had already been looking for alternative sources of funding, this proved to be the last straw. Together with the Council of Masters he announced the closure of the Bauhaus from the end of March 1925. The SPD, who had governed in Dessau for years, offered to establish the Bauhaus in the city. Gropius and his staff moved there in 1926.

After the Bauhaus moved to Dessau, a school of industrial design with teachers and staff less antagonistic to the conservative political regime remained in Weimar. This school was eventually known as the Technical University of Architecture and Civil Engineering and in 1996 changed its name to Bauhaus University Weimar.

Dessau

In 1927, the Bauhaus style and its most famous architects heavily influenced the exhibition "Die Wohnung" ("The Dwelling") organized by the Deutscher Werkbund in Stuttgart. A major component of that exhibition was the Weissenhof Siedlung, a settlement or housing project. Gropius was succeeded by Hannes Meyer, and then in turn by Ludwig Mies van der Rohe.

Berlin
Paul Schultze-Naumburg

Under increasing political pressure the Bauhaus was closed on the orders of the Nazi regime on April 11 1933. The Nazi Party and other fascist political groups had opposed the Bauhaus throughout the 1920s. They considered it a front for communists, especially because many Russian artists were involved with it. Consequently, many Weissenhof architects fled to the Soviet Union, thus strengthening the effect. Nazi writers such as Wilhelm Frick and Alfred Rosenberg called the Bauhaus "un-German," and criticized its modernist styles. (See Degenerate art.)

USA

In 1937 László Moholy-Nagy was invited by the American Association of Arts and Industries to become the director of the New Bauhaus in Chicago. The new school used and developed the Bauhaus curriculum and employed some of the staff from the German schools, many of whom had left Germany due to the increasingly hostile political climate towards progressive art. The focus on natural and human sciences was intensified, and photography grew to play a more prominent role. Too experimental for American tastes the school floundered and closed in 1938 due to financial problems. Seven months later the school was reopened as the School of Design (renamed as the Institute of Design in 1944). Moholy-Nagy was succeeded as director by Serge Chermayeff in 1946.

Architectural output

The paradox of the early Bauhaus was that, although its manifesto proclaimed that the ultimate aim of all creative activity was building, the school wouldn't offer classes in architecture until 1927. The single most profitable tangible product of the Bauhaus was its wallpaper.

During the years under Gropius (1919-1927), he and his partner Adolf Meyer observed no real distinction between the output of his architectural office and the school. So the built output of Bauhaus architecture in these years is the output of Gropius: the Sommerfeld house in Berlin, the Otte house in Berlin, the Auerbach house in Jena, and the competition design for the Chicago Tribune Tower, which brought the school much attention. The definitive 1926 Bauhaus building in Dessau is also attributed to Gropius. Student work amounted mainly to unbuilt projects, interior finishes, and craft work like cabinets, chairs and pottery.

In the two years under the outspoken Swiss Communist architect Hannes Meyer, the architectural focus shifted away from aesthetics and towards functionality. But there were major commissions: one by the city of Dessau for five tightly designed "Laubenganghäuser" (apartment buildings with balcony access), which are still in use today, and another for the headquarters of the Federal School of the German Trade Unions (ADGB) in Bernau bei Berlin. Meyer's approach was to research users' needs and scientifically develop the design solution.

And then Mies van der Rohe repudiated Meyer's politics, his supporters, and his architectural approach. As opposed to Gropius' "study of essentials", and Meyer's research into user requirements, Mies advocated a "spatial implementation of intellectual decisions", which effectively meant an adoption of his own aesthetics. Neither Mies nor his Bauhaus students saw any projects built during the 1930s.
The popular conception of the Bauhaus as the source of extensive Weimar-era working housing is not accurate. Two projects, the apartment building project in Dessau and the Törten row housing also in Dessau fall in that category, but it may be fair to say that developing worker housing was not the first priority of Gropius nor Mies. It was the Bauhaus contemporaries Bruno Taut, Hans Poelzig and particularly Ernst May, as the city architects of Berlin, Dresden and Frankfurt respectively, who are rightfully credited with the thousands of socially progressive housing units built in Weimar Germany. In Taut's case, the housing may still be seen in SW Berlin, is still occupied, and can be reached by going easily from the Metro Stop Onkel Tom's Hutte.

Impact

The Bauhaus had a major impact on art and architecture trends in Western Europe, the United States and Israel in the decades following its demise, as many of the artists involved fled or were exiled by the Nazi regime.

Gropius, Breuer, and Moholy-Nagy re-assembled in England during the mid 1930s to live and work in the Isokon project before the war caught up to them. In the late 1930s Mies van der Rohe re-settled in Chicago and became one of the pre-eminent architects in the world. Moholy-Nagy also went to Chicago and founded the New Bauhaus school under the sponsorship of industrialist and philanthropist Walter Paepcke. Herbert Bayer, also sponsored by Paepcke, moved to Aspen, Colorado in support of Paepcke's Aspen projects.

Both Gropius and Breuer went to teach at the Harvard Graduate School of Design and worked together before their professional split in 1941. The Harvard School was enormously influential in the late 1940s and early 1950s, producing such students as Philip Johnson, I.M. Pei, Lawrence Halprin and Paul Rudolph, among many others.

One of the main objectives of the Bauhaus was to unify art, craft, and technology. The machine was considered a positive element, and therefore industrial and product design were important components. Vorkurs ("initial course") was taught; this is the modern day Basic Design course that has become one of the key foundational courses offered in architectural schools across the globe. There was no teaching of history in the school because everything was supposed to be designed and created according to first principles rather than by following precedent.

One of the most important contributions of the Bauhaus is in the field of furniture design. The world famous and ubiquitous Cantilever chair by Dutch designer Mart Stam, using the tensile properties of steel, and the Wassily Chair designed by Marcel Breuer are two examples.

The physical plant at Dessau survived the War and was operated as a design school with some architectural facilities by the Communist German Democratic Republic. This included live stage productions in the Bauhaus theater under the name of Bauhausbühne ("Bauhaus Stage"). After German reunification, a reorganized school continued in the same building, with no essential continuity with the Bauhaus under Gropius in the early 1920s

In 1999 Bauhaus-Dessau College started to organize postgraduate programs with participants from all over the world. This effort has been supported by the Bauhaus-Dessau Foundation which was founded in 1994 as a public institution.

American art schools have also rediscovered the Bauhaus school. The Master Craftsman Program at Florida State University bases its artistic philosophy on Bauhaus theory and practice.

BOUCHERON

Boucheron is a French jeweller. Since its founding by Frederic Boucheron in 1858, the House has created exceptional pieces in the High Jewellery, watch and jewellery ranges. Throughout the history of the House of Boucheron, Frederic Boucheron was often a pioneer: he was the first jeweller to open on the Place Vendôme in 1893, he did successful experiments with diamond graving, and was the precursor of the "nature" style by using snakes and other symbolic animal figures of 19th century Art Nouveau.
Boucheron today is one the most renown French enterprises in the jewellery world and is celebrated for its creativity, its know-how and audacity. Aside jewellery, Boucheron is also known for its perfume distribution : in 1988 the brand captured the spirit of its craft and transformed it into a fragrance by creating the first "parfum bijou".

In 2005, a new horizon was opened to Boucheron; the creation of a "bijoux" line came to reinforce the commercial expansion of the brand. The House celebrates its 150th anniversary in 2008.

MARCEL BREUER

Marcel Lajos Breuer (May 21, 1902 Pécs, Hungary - July 1, 1981 New York City), architect and furniture designer, was an influential modernist. One of the fathers of Modernism, Breuer showed a great interest in modular construction and simple forms.

Known as Lajkó, Breuer studied and taught at the Bauhaus in the 1920s, stressing the combination of art and technology, and eventually became the head of the carpentry shop there. He later practiced in Berlin, designing houses and commercial spaces, as well as a number of tubular metal furniture pieces, replicas of which are still in production today.

Breuer may be best known for his design of the Wassily Chair, the first tubular bent-steel chair, designed in 1925 for Wassily Kandinsky and inspired in part by bicycle handlebars. Still in production, the chair can be assembled and disassembled most easily with bicycle tools.

In the 1930's, due to the rise of the Nazi party in Germany, Breuer relocated to London. While in London, Breuer was employed by Jack Pritchard at the Isokon company; one of the earliest introducers of modern design to the United Kingdom. Breuer designed his Long Chair as well as experimenting with bent and formed plywood. Breuer eventually ended up in the United States. He taught at Harvard's architecture school, working with students such as Philip Johnson and Paul Rudolph who later became well-known U.S. architects. (At one point Johnson called Breuer "a peasant Mannerist".) At the same time, Breuer worked with old friend and Bauhaus colleague Walter Gropius, also at Harvard, on the design of several houses in the Boston area.

Breuer dissolved his partnership with Gropius in May 1941 and established his own firm in New York. The Geller House I of 1945 is the first to employ Breuer's concept of the 'binuclear' house, with separate wings for the bedrooms and for the living / dining / kitchen area, separated by an entry hall, and with the distinctive 'butterfly' roof (two opposing roof surfaces sloping towards the middle, centrally drained) that became part of the popular modernist style vocabulary. A demonstration house set up in the MOMA garden in 1949 caused a new flurry of interest in the architect's work, and an appreciation written by Peter Blake.

The 1953 commission for UNESCO headquarters in Paris was a turning point for Breuer: a return to Europe, a return to larger projects after years of only residential commissions, and the beginning of Breuer's adoption of concrete as his primary medium. He became known as one of the leading practitioners of Brutalism, with an increasingly curvy, sculptural, personal idiom. Windows were often set in soft, pillowy depressions rather than sharp, angular recesses. Many architects remarked at his ability to make concrete appear "soft".

Breuer is sometimes incorrectly credited, or blamed, for the former Pan Am Building (now the MetLife Building), a high-rise in New York City considered to be unpopular. The Pan Am was actually credited to Walter Gropius. In 1969 Breuer developed a 30-story proposed skyscraper over Grand Central Terminal, called "Grand Central Tower", which Ada Louise Huxtable called 'a gargantuan tower of aggressive vulgarity', and became a cause celebre. Breuer's reputation was damaged, but the legal fallout improved the climate for landmark building preservation in New York City and across the United States.

ETTORE BUGATTI

Ettore Arco Isidoro Bugatti (September 15, 1881, Milan, Italy, died on August 21, 1947) and was an automobile designer and manufacturer.

He came from a notably artistic family that had its roots in Milan. He was the elder son of Teresa Lorioli and her husband Carlo Bugatti (1856-1940), an important Art Nouveau furniture and jewelry designer. His younger brother was a renowned animal sculptor, Rembrandt Bugatti (1884-1916), his aunt, Luigia Bugatti, was the wife of the painter Giovanni Segantini, and his paternal grandfather, Giovanni Luigi Bugatti, was an architect and sculptor.

Before founding his own automobile company, Ettore designed a number of engines and vehicles for others. Prinetti & Stucchi produced his 1898 Type 1. From 1902 through 1904, Dietrich built his Type 3/4 and Type 5/6/7 under the Dietrich-Bugatti marque. In 1907, Bugatti went to work for the Deutz Gasmotoren Fabrik, designing the Type 8/9.

On his own time, Bugatti developed the Type 2 (in 1900 and 1901), and the 1903 Type 5. While at Deutz, Bugatti built his Type 10 in the basement of his home. In 1913, Bugatti designed a small car for Peugeot, the Type 19 "Bébé".

Although born in Italy, Bugatti's eponymous automobile company was set up in Molsheim, in the Alsace region, now part of France. Ettore Bugatti was the technical innovator behind the company, developing a number of engines and chassis for the numerous models produced over the next three decades. The company was known for its advanced engineering in its premium road cars and its success in early Grand Prix motor racing, winning the first ever Monaco Grand Prix.

Ettore Bugatti also designed a successful motorized railcar, the Autorail, and an airplane, but it never flew. His son, Jean Bugatti, was killed on August 11, 1939 at the age of 30, while testing a Type 57 tank-bodied race car near the Molsheim factory. After that, the company's fortune began to decline. World War II ruined the factory in Molsheim, and the company lost control of the property. During the war, Bugatti planned a new factory at Levallois in Paris and designed a series of new cars.

Ettore Bugatti was interred in the Bugatti family plot at the municipal cemetery in Dorlisheim near Molsheim in the Bas-Rhin département of the Alsace region of France.
CARTIER

Cartier was founded in Paris in 1847 by Louis-François Cartier. In 1874 his son, Alfred Cartier took over the administration of the company, but it was his sons, Louis, Pierre and Jacques, who were responsible for establishing the famous world-wide brand name of Cartier.

Louis retained responsibility for the Paris branch, moving to the Rue de la Paix, in 1899. He was responsible for some of the company's most celebrated design innovations, like the legendary mystery clocks, high fashion wristwatches and exotic orientalist Art Deco designs, including the daringly colourful "Tutti Frutti" jewels. Jacques took charge of the London operation and eventually moved to the current location at New Bond Street.

Pierre Cartier established the New York Branch in 1909, moving in 1917 to the current location of 653 Fifth Avenue, the Neo-Renaissance mansion of banker Morton Plant. Among the Cartier team was Charles Jacqueau, who joined Louis Cartier in 1909 for his entire life, and Jeanne Toussaint, who was Director of Fine Jewelry from 1933 on. After the death of Pierre in 1964, Jean-Jacques Cartier (Jacques's son), Claude Cartier (Louis's son), and Marionne Claudelle (Pierre's daughter), who respectively headed the Cartier affiliates in London, New York and Paris - sold the businesses.
In 1972 a group of investors led by Joseph Kanoui bought Cartier Paris, whose President became Robert Hocq, the creator of the concept of "Les Must de Cartier" in collaboration with Alain Dominique Perrin, General Director of "Les Must de Cartier." In 1974 and 1976 respectively, Cartier London and Cartier New York were bought back. In 1979 the Cartier interests were combined together, creating "Cartier Monde" uniting and controlling Cartier Paris, London and New York.

ADOLPHE MOURON CASSANDRE

Adolphe Mouron Cassandre (January 24, 1901 - June 19, 1968) was an influential Ukrainian-French painter, commercial poster artist, and typeface designer.

Born Adolphe Jean-Marie Mouron in Kharkov, Ukraine to French parents, as a young man, Cassandre moved to Paris, France where he studied at the École des Beaux-Arts and at the Académie Julian. Needing to earn a living, the popularity of posters as advertising afforded him an opportunity to work for a Parisian printing house. Inspired by cubism as well as surrealism, he earned a reputation with works such as Bûcheron (Woodcutter), a poster created for a cabinetmaker that won first prize at the 1925 Exposition Internationale des Arts Décoratifs.

Cassandre became successful enough that with the help of partners he was able to set up his own advertising agency called Alliance Graphique. Serving a wide variety of clientele, during the 1930s, his creations for the Dubonnet wine company were among the first posters designed in a manner that allowed them to be seen by occupants in fast-moving vehicles. His posters are memorable for their innovative graphic solutions and their frequent denotations to such painters as Max Ernst and Pablo Picasso. In addition, he taught graphic design at the Ecole des Arts Décoratifs and then at the Ecole d'Art Graphique.

With typography an important part of poster design, the company created several new typeface styles. Cassandre developed Bifur in 1929, the sans serif Acier Noir in 1935, and in 1937 an all-purpose font called Peignot. In 1936, his works were exhibited at the Museum of Modern Art in New York City which led to commissions from Harper's Bazaar to do cover designs.

With the onset of World War II, Cassandre served in the French army until the fall of France. His business long gone, he survived by creating stage sets and costumes for the theatre, something he had dabbled in during the 1930s. After the war, he continued this line of work while also returning to easel painting. In 1963, he designed the well-known Yves Saint-Laurent logo.

In his later years, Adolphe Mouron Cassandre suffered from bouts of depression that led to his suicide in Paris in 1968.

In 1985, Henri Mouron told his father's life story in the a book titled A.M. Cassandre.

COCO CHANEL

Chanel herself mentioned constantly improved versions of her childhood. However, it seems certain that she was born as the second illegitimate daughter to the traveling salesman Albert Chanel and his lover Jeanne Devolle in the small city of Saumur, France. Her parents married in 1884. She had five siblings: two sisters, Julia (born 1882) and Antoinette (born 1887) and three brothers, Alphonse (born 1885), Lucien (born 1889) and Augustin (born 1891), who died after a few months. On 16 February 1895, when Gabrielle was 11 years old, her mother died; her father abandoned them a short time later. The young Gabrielle spent 7 years in the orphanage of the Catholic monestary of Aubazine, where she learned the trade of a seamstress. After affairs with generous wealthy men - a military officer and later an English industrialist - she was able to open a shop in Paris in 1910 selling ladies' hats, and within a year moved the business to the fashionable Rue Cambon. Her influence on haute couture was such that she was the only person in the field to be named on TIME Magazine's 100 most influential people of the 20th century.

In 1921 Chanel No. 5 perfume was introduced by Chanel. The perfume was the first to be sold worldwide, and stood out from the other flamboyant perfume bottles of the time. The No. 5 in Chanel No. 5, is said to be Coco's lucky number. Pierre Wertheimer became her partner in the perfume business in 1924. Wertheimer owned 70% of the company; Coco Chanel received 10% and her friend Bader 20%. The Wertheimers continue to control the perfume company today.

The influential Chanel suit, launched in 1923, was an elegant suit comprising a knee-length skirt and trim, boxy jacket, traditionally made of woven wool with black trim and gold buttons and worn with large costume-pearl necklaces. Coco Chanel also popularized the little black dress, whose blank-slate versatility allowed it to be worn for day and evening, depending on how it was accessorized. Although unassuming black dresses existed before Chanel, the ones she designed were considered the haute couture standard. In 1923, she told Harper's Bazaar that "simplicity is the keynote of all true elegance."
The nickname Coco was evidently acquired at La Rotonde, a cafe frequented by members of a French cavalry regiment and many of the artists who flocked to Paris' Montparnasse section at the turn of the 20th century. It was there that Chanel, then a cabaret singer, performed a song called "Qui qu'a vu Coco," and the name stuck. (Other sources state that her audiences cried "Coco" when they wanted an encore, while further sources state that the song was called "Ko Ko Ri Ko," French for "Cock-a-doodle-do.")

Chanel was set up in business by a paramour, Étienne Balsan, a French textile heir, and her romantic affairs with the artist Paul Iribe, the Duke of Westminster, Grand Duke Dmitri of Russia, and British sportsman Boy Capel all had a considerable influence on the stylistic evolution of her often male-inspired fashions. Coco Chanel was very well known for minimal accesories, but was often photographed wearing a white Camellia.

She never married. For more than 30 years, Gabrielle Chanel made the Hôtel Ritz in Paris her home, even during the Nazi occupation of Paris, during which time she was criticized for anti-semitism and homophobia, and for having an intimate affair with Hans Gunther von Dincklage, Nazi officer who arranged for her to stay in her favorite hotel, the Hôtel Ritz Paris. He later turned out to be an intelligence agent. She maintained an apartment above her Rue Cambon establishment and also owned Villa La Pausa in the town of Roquebrune on the French Riviera. However, she spent her latter years in Lausanne, Switzerland and is buried there in a tomb surrounded by five stone lions.
Chanel has been portrayed on the Broadway stage by Katharine Hepburn in a musical by Andre Previn and Alan Jay Lerner, and on screen by the French actress Marie-France Pisier.
The House of Chanel in Paris, under Karl Lagerfeld, remains one of the top design houses today.

PIERRE CHAREAU

The Maison de Verre (French for House of Glass) was built from 1928 to 1931 in Paris, France. Constructed in the early modern style of architecture, the house's design emphasized three primary traits: honesty of materials, variable transparency of forms, and juxtaposition of "industrial" materials and fixtures with a more traditional style of home décor. The primary materials used were steel, glass, and glass block. Some of the notable "industrial" elements included rubberized floor tiles, bare steel beams,perforated metal sheet,heavy industrial light fixtures and mechanical fixtures.
The design was a collaboration between Pierre Chareau (a furniture and interiors designer), Bernard Bijvoet (a Dutch architect working in Paris since 1927) and Louis Dalbet (craftsman metalworker). Much of the intricate moving scenery of the house was designed on site as the project developed. The external form is defined by translucent glass block walls, with select areas of clear glazing for tranparency. Internally, spatial division is variable by the use of sliding, folding or rotating screens in glass, sheet or perforated metal, or in combination. Other mechanical components included an overhead trolley from the kitchen to dining room, a retracting stair from the private sitting room to Mme Dalsace's bedroom and complex bathroom cupboards and fittings.

The program of the home was somewhat unusual in that it included a ground-floor medical suite for Dr. Dalsace. This variable circulation pattern was provided for by a rotating screen which hid the private stairs from patients during the day, but framed the stairs at night.
The house is notable for its splendid architecture, but it may be more well-known for another reason. It was built on the site of a much older building which the patron had purchased and intended to demolish. Much to his or her chagrin, however, the elderly tenant on the top floor of the building absolutely refused to sell, and so the patron was obliged to completely demolish the bottom three floors of the building and construct the Maison de Verre underneath, all without disturbing the original top floor!

SERGE CHERMAYEFF

Serge Ivan Chermayeff (October 8, 1900 - May 8, 1996) was a British architect, writer, and co-founder of several architectural societies, including the American Society of Planners and Architects.

He was born in Grozny, Russian Empire (currently Chechen Republic), but moved to England at a young age where he received his education. He first started working as an interior designer for a firm in London. By 1930, he and the German architect Erich Mendelsohn briefly partnered to form their own architectural firm. They created some very important works in the British modernist movement, notably the De La Warr Pavilion and was a member of the MARS Group. In 1940, Chermayeff emigrated to the United States where he would continue his architectural career and would take up teaching at several universities. In 1946, he was recommended by Walter Gropius to become the president of the Institute of Design in Chicago. He stepped down in 1951 when the institute merged with the Illinois Institute of Technology. Between 1952 and 1970 he would continue to teach at several universities including Harvard, Yale, and MIT. He retired in 1970. He wrote several books, including Community and Privacy with Christopher Alexander in 1964 and The Shape of Community with Alexander Tzonis in 1971. He died in 1996 in Wellfleet, Massachusetts.

DEMETRE H. CHIPARUS

Demetre H. Chiparus (1886-1947) was an Art Deco era sculptor who lived and worked in Paris. He was born in Romania and attended school in Italy. Before World War I, he traveled to Paris to attend the Ecole des Beaux Arts and pursue his art. In 1914 he exhibited at the Salon. He employed the combination of bronze and ivory, called chryselephantine, to great effect. Most of his renowned works were made between 1914 and 1933. In the 1920's, his work was influenced by an interest in Egypt, after Pharaoh Tutankhamen's tomb was excavated. Dancers of the Russian Ballet, French theatre, and early motion pictures were among his more notable subjects and were typified by a long, slender, stylized appearance. He worked primarily with the Etling Foundry in Paris.

CLARICE CLIFF

Clarice Cliff (January 20, 1899 - October 23, 1972), was a ceramic artist active from 1922 to 1940.
Clarice was born in Tunstall, Stoke-on-Trent, England. She studied at the Burslem School of Art in the evenings.

Her first job was as a gilder, and once she had mastered this she changed jobs to learn freehand painting at another potbank, then moved to A.J. Wilkinson's in 1916, to improve her chances of becoming a modeller.

This was an unusual start to an unusual career, most 'pottery girls' mastered a particular task and then stayed with that to maximise their income as they were paid by the piece. However, Clarice was ambitious and prepared to take wage reductions to start at the bottom to acquire a new skill, in the process acquiring a wide range of expertise including outlining, tube lining, enamelling, banding and modelling.
Eventually Clarice's wide range of abilities were recognised, and she was given an opportunity to decorate some of the factory's defective 'glost' (white) ware in her own freehand patterns. She covered the imperfections in simple patterns of triangles, vividly coloured in a style that was to become known as 'Original Bizarre'. To the surprise of the company's salesmen, this was immediately popular. She was provided with her own studio and another painter to assist, but this rapidly expanded to a team of around 70 young painters, mainly women but four boys - they hand painted the wares under her direction.

Between 1928 and 1936 she evolved a new range called Fantasque which featured cottages and trees, and then many Art Deco inspired paterns. These have proven particularly collectible nowadays. Through the depths of the Depression her wares continued to sell in volume at what were high prices for the time. Her Bizarre and Fantasque ware was sold throughout the world, North America, Australia, New Zealand, South Africa, but not in mainland Europe. In Britain many top London stores sold it, including Harrod's, but never Woolworths as some have stated.

In 1930 she was appointed Art Director on Newport Pottery and A. J. Wilkinson's, the two adjoining factories that produced her wares. Her work involved spending more time with the factory owner Colley Shorter, and this gradually developed into an affair, conducted in secrecy. In 1940, after the death of Ann Shorter, Colley's wife, they married and Clarice moved into the Shorter home, Chetwynd House, where she developed a strong interest in the extensive gardens.

During World War Two only plain white pottery was permitted under wartime regulations, so Clarice assisted with management of the pottery but was not able to continue design work.
After the war, most production went to the US market where the taste was for formal ware in traditional English designs, rather than the striking patterns and shapes that had established Clarice's reputation. Thus she was never able to return to creative work. A.J.Wilkinson and their Newport Pottery continued to sell ware under Clarice's name until 1964 when the factory was sold to Midwinter who also continued to use the 'Clarice Cliff' brand on some pieces.

Clarice's earliest Bizarre pieces pieces from 1927 are the traditional shapes decorated in strongly geometric patterns of diamonds and triangles in bold contrasting colours, and now called 'Original Bizarre'. This early ware is usually stamped 'Bizarre' and sells for moderately high prices at auction.
By 1929 Clarice was designing her own shapes, often very angular and high Art Deco.
Abstract and cubist patterns appeared on these, such as Ravel, seen on Clarice's Conical shape ware.
Clarice's are highly stylised and interpreted in strong colours, such as the 'Honolulu' pattern.
Typically stamped 'Bizarre' or 'Fantasque', rare combinations of shape and pattern can attract very high prices at auction. By 1935 tastes had changed and the 'My Garden' series

Other series from this period include 'Harvest' which has detailed modeling,
This late 1930s ware attracts relatively low prices at auction, though becoming more valuable.
After the second world war, although Clarice had less creative input into the ware her 'Clarice Cliff' mark was frequently added to the standard ranges made by the factory. This postwar ware has little value at auction.

In 1972 the first Clarice Cliff exhibition took place at Brighton, East Sussex, for which she provided comments for the catalogue. Later that year Clarice died suddenly at Chetwynd House. This exhibition marked the start of a major revival of interest in Clarice's work, which has continued to be sought after by Art Deco Ceramic collectors. Such was the interest that the Clarice Cliff Collectors Club was founded in 1982 [1] which celebates it's 25th Anniversary in 2006.

A chain of mergers eventually led to Wedgwood owning the Clarice Cliff name, and in the early 1990s they produced a range of reproductions of the highly sought 1930s Deco pieces. These were made to a high quality, and were produced in small numbers for sale to collectors who could not find (or perhaps could not afford) the most striking original pieces.

These hand painted collectors pieces ceased production in 2002 and are now acquiring significant values at auction. Other pieces were made in larger quantities with printed (not hand painted) patterns, and these are also starting to be sought at auction. These reproductions should not be confused with forgeries (of which a number are found), the Wedgwood ones are clearly marked as 'Wedgwood Clarice Cliff' and were produced by the current holder of the copyright.

1999 saw the centenary celebrations of Clarice's life and work. This featured the 'Bizarre Art of Clarice Cliff' exhibition at the Wedgwood Visitors Centre, Barlaston, Stoke-on-Trent. This was linked to the centenary book 'Art of Bizarre' by Leonard Griffin (Chrysalis boooks). A biography by Lynn Knight was published in 2005.

WELLS COATES

Wells Wintemute Coates (December 17, 1895 - June 17, 1958) was an architect, designer and writer. He was, for most of his life, an ex-patriate Canadian architect who is best known for his work in England. His most notable work is the Isokon building in Hampstead, London.

Early years

The oldest of six children, Wells Coates was born in Tokyo, Japan on December 17, 1895 to Methodist missionaries Sarah Agnes Wintemute Coates (1864-1945) and Harper Havelock Coates (1865-1934).
The young man's desire to be an architect was inspired by his mother, who had herself studied architecture under Louis Sullivan and planned one of the first missionary schools in Japan.
Coates spent his youth in the Far East, and voyaged around the world with his father in 1913. He served in World War I, first as a gunner and later as a pilot with the Royal Air Force. From 1921 to 1924, he attended the University of British Columbia where he obtained BA and BSc degrees, and in 1924, he moved to London where he studied engineering (obtaining a PhD). Among his first jobs in England was as a journalist and then with the design firm of Adams and Thompson in 1924. He established his own firm in 1928.

His childhood experiences in Japan would play an important role in his aesthetic sensibility that he brought to his architectural work, and this sensibility found a fitting outlet in the Modernist Movement, then current in Europe. He attended the 1933 Congrès International d'Architecture Moderne (CIAM), which produced the famous Athens Charter, and was one of the founders, with Maxwell Fry, of the Modern Architectural Research Group (MARS), the British wing of CIAM.

Role as a Modernist

Wells embraced Le Corbusier's architectural mantra that buildings should be 'machines for living' (machine à habiter). The machine á habiter ideal was best-reflected in his Isokon building (also known as Lawn Road Flats), completed in 1934. Indeed, the architectural critic J. M. Richards suggested that he improved on Corbusier, coming "nearer to the machine á habiter than anything Corbusier ever designed". The building was compared to the exterior of an ocean liner by the novelist Agatha Christie, who lived there for a time, so clean and striking was the design.
The apartment building was the brainchild of Jack and Molly Pritchard, who in 1931 established a design firm featuring Modernist architecture and furniture. With simple living spaces strongly influenced by Coates' Japanese experience, and including built-in Isokon furniture, Isokon was "an experiment in collective housing designed for left-wing intellectuals". It became a haven for Germans escaping Nazi persecution and hosted many famous personages including Christie, Walter Gropius and Marcel Breuer.
Isokon was ahead of its time: it won second place in Horizon Magazine's 'Ugliest Building Competition' in 1946, and would not be recognized as one of England's most important Modernist buildings for another decade. The building fell into disrepair by the 1990's but it changed ownership in 2001 and was fully restored by 2004.

Later Achievements

He also designed the "D-handle", a simple door handle design commonly employed, for example, in Scandinavian furniture. In 1930 he designed a studio for the British Broadcasting Corporation, and among his technical designs was a microphone stand featuring an overhead counterbalanced arm that enabled the microphone to be moved to any part of the studio while remaining perfectly balanced. The design became a standard piece of equipment at the BBC.

The thirties were his most prolific era. The Isokon was immediately followed by Embassy Court, Brighton (1935) and 10 Palace Gate, Kensington (1939). These were the only apartment buildings he would design. He also had several private home commissions. During World War II, he again served with the RAF, this time working on fighter aircraft development, for which he was later awarded an OBE.
Following World War II, he, like some other well known architects including Gropius and Breuer (by then working in America), contributed to the British post-War housing effort by introducing an early scheme for modular housing he called Room Unit Production.

He also designed a remarkable boat, called the Wingsail. It had a rigid sail design mounted on a catamaran hull. Though he formed a company to market the design, it was not a success, as both the sail and the catamaran were ahead of their time.

He is less well known for his planning work. In 1937, he undertook planning for a slum clearance in Britain (not implemented). In Canada (1952-54) he prepared plans for Iroquois New Town on the St. Lawrence River in eastern Ontario which were also not implemented (the design was awarded to others). He also prepared plans for a Toronto Island Redevelopment Project , and was a participant in the Project 58 urban redevelopment scheme for Vancouver.

Final Years in Canada

Coates began coming back to Canada in the early 1950's, about the time of the Iroquois project, finally settling there in 1957. In 1955 and '56, he taught at the Graduate School of Design at Harvard with Walter Gropius but he was not happy there. He returned to Vancouver after two years, where he worked on Project 58. His last assignment was to design a monorail rapid transit system for Vancouver, dubbed the Monospan Twin-Ride System (MTRS). Once again, he was ahead of his time. The project was abandoned, but would be rejuvenated years later in another form known as SkyTrain.
Wells Coates died of a heart attack in Vancouver on June 17, 1958 at the age of 63.
The University of East Anglia Library in Norwich has materials relating to his life and work. A list of the holdings is available on the WWW [12]. Additional reference materials from the CIAM period are held at the CIAM Belgian Section of the Getty Research Institute.

LE CORBUSIER

Charles-Edouard Jeanneret, widely known as Le Corbusier (October 6, 1887- August 27, 1965), was a Swiss (naturalized French) architect, famous for his contributions to what is now called modernism, or the International Style. He was a pioneer in theoretical studies of modern design and was dedicated to providing better living conditions for the residents of crowded cities. His career spanned five decades, with iconic buildings constructed across central Europe, India, Russia, and one structure in the United States. He was also an urban planner, painter, sculptor, writer and furniture designer.

Early life and education, 1887-1913

Born as Charles-Edouard Jeanneret in La Chaux-de-Fonds, a small town of Neuchâtel canton in north-western Switzerland, just across the border from France, Le Corbusier was attracted to the visual arts and studied under the tutelage of the teacher at the local arts school, Charles L'Éplattenier, who had himself studied in Budapest and Paris. He designed his earliest houses, like the Villa Fallet, the Villa Schwob, and the Villa Jeanneret (the latter of which was for his parents) in La Chaux-de-Fonds. These houses recall the indigenous mountainous vernacular architectural styles popular in the Alps.
Frequently, in his early years he would escape the somewhat provincial atmosphere of his hometown by traveling around Europe. In about 1907 he travelled to Paris, where he found work in the office of Auguste Perret, the French pioneer in reinforced concrete. Between October 1910 and March 1911 he worked for the renowned architect Peter Behrens near Berlin, where he met a young Ludwig Mies van der Rohe and became fluent in German. Both of these experiences proved influential in his later career. Later in 1911 he would journey to the Balkans and visit Greece and Turkey, filling sketchbooks with renderings of what he saw, including many famous sketches of the Parthenon, whose forms he would later praise in his work Vers une architecture (1923).

Early career: the villas, 1914-1930

Jeanneret moved to Paris permanently at the age of 29 in 1916, shortly after he had begun to work on theoretical architectural studies using modern techniques. Among these was his project for the "Dom-ino" House (1914-1915). This model proposed an open floor plan consisting of concrete slabs supported by a minimal number of thin reinforced concrete piers around the edges, with a stairway providing access to each level on one side of the floor plan. The design soon became the foundation for most of his architecture for the next ten years. Soon he would begin his own architectural practice with his cousin, Pierre Jeanneret (1896-1967), a partnership that would last until 1940.
In 1918 Jeanneret met the disillusioned Cubist painter Amédée Ozenfant, in whom he recognized a kindred spirit. Ozenfant encouraged him to paint, and the two began a period of collaboration. Rejecting Cubism as irrational and "romantic," the pair jointly published their manifesto, Après le Cubisme and established a new artistic movement: Purism. Ozenfant and Jeanneret established the Purist journal L'Esprit Nouveau in 1920, in whose first issue, Jeanneret adopted the moniker "Le Corbusier" (an altered form of his maternal grandfather's name, "Lecorbésier") as a pseudonym, reflecting Jeanneret's belief that anyone could reinvent himself. Some architectural historians claim that this pseudonym translates as "the crow-like one." Between 1918 and 1922 Jeanneret built nothing, concentrating his efforts on Purist theory and painting.

His theoretical studies soon advanced into several different single-family house models. Among these was the Maison "Citrohan," a pun on the name of the French Citroën automaker, for the modern industrial methods and materials Le Corbusier advocated using for the house. Here, Le Corbusier proposed a three-floor structure, with a double-height living room, bedrooms on the second floor, and a kitchen on the third floor. The roof would be occupied by a sun terrace. On the exterior Le Corbusier installed a stairway to provide second-floor access from ground level. Here, as in other projects from this period, he also designed the façades to include large expanses of uninterrupted window space. The house used a rectangular plan, with exterior walls not filled by windows left as white, stuccoed spaces. Le Corbusier and Jeanneret left the interior aesthetic spare, with any movable furniture made of tubular metal frames. Light fixtures usually comprised single, bare bulbs. Interior walls were also left white. Between 1922 and 1927 Le Corbusier and Pierre Jeanneret designed many of these private houses for clients around Paris. In Boulogne-sur-Seine and the 16th arrondissement of Paris, Le Corbusier and Pierre Jeanneret designed and built the Villa Lipschitz, Maison Cook (see William Edwards Cook), Maison Planeix, and the Maison LaRoche/Albert Jeanneret (which now houses the Fondation Le Corbusier).
Five points of architecture

It was, however, Le Corbusier's Villa Savoye (1929-1931) that most succinctly summed up his five points of architecture that he had elucidated in the journal L'Esprit Nouveau and his book Vers une architecture, and which he had been developing throughout the 1920s. First, Le Corbusier lifted the bulk of the structure off the ground, supporting it by pilotis--reinforced concrete stilts. These pilotis, in providing the structural support for the house, allowed him to elucidate his next two points: a free façade, meaning non-supporting walls that could be designed as the architect wished, and an open floor plan, meaning that the floor space was free to be configured into rooms without concern for supporting walls. The second floor of the Villa Savoye includes long strips of ribbon windows that allow unencumbered views of the large surrounding yard, and which constitute the fourth point of his system. A ramp rising from the ground level to the third floor roof terrace (the fifth point) allows for an architectural promenade through the structure. The white tubular railing recalls the industrial "ocean-liner" aesthetic that Le Corbusier much admired. As if to put an exclamation point on Le Corbusier's homage to modern industry, the driveway around the ground floor, with its semicircular path, measures the exact turning radius of a 1929 Voisin automobile.

Forays into urbanism, 1922-1929

For a number of years French officials had been unsuccessful in dealing with the squalor of the growing Parisian slums, and Le Corbusier sought efficient ways to house large numbers of people in response to the urban housing crisis. He believed that his new, modern architectural forms would provide a new organizational solution that would raise the quality of life of the lower classes who lived in such dirty quarters. His Immeubles Villas (1922) was such a project that called for large blocks of cell-like individual apartments stacked one on top of the other, with plans that included a living room, bedrooms, and kitchen, as well as a garden terrace.

Not merely content with designs for a few housing blocks, soon Le Corbusier moved into studies for entire cities. In 1922, he also presented his scheme for a Contemporary City for Three Million Inhabitants (Ville Contemporaine). The centerpiece of this plan was the group of sixty-story cruciform skyscrapers built on steel frames and encased in huge curtain walls of glass. They housed both offices and the apartments of the most wealthy inhabitants. These skyscrapers were set within large, rectangular park-like green spaces. At the very center was a huge transportation center, that on different levels included depots for buses and trains, as well as highway intersections and at the top, an airport. (He had the fanciful notion that commercial airliners would land between the huge skyscrapers). Le Corbusier segregated the pedestrian circulation paths from the roadways, and glorified the use of the automobile as a means of transportation. As one moved out from the central skyscrapers, smaller multistory zigzag blocks set in green space and set far back from the street housed the proletarian workers. Le Corbusier hoped that politically-minded industrialists in France would lead the way with their efficient Taylorist and Fordist strategies adopted from American models to reorganize society.

In this new industrialist spirit, Le Corbusier began a new journal called L'Esprit Nouveau that advocated the use of modern, industrial techniques and strategies to transform society into a more efficient environment with a higher standard of living on all socioeconomic levels. He forcefully argued that this transformation was necessary to avoid the specter of revolution that would otherwise shake society. His dictum "Architecture or Revolution," developed in his articles in this journal, became his rallying cry for the book Vers une architecture ("Towards an Architecture," translated into English under the incorrect title Towards a New Architecture), which was comprised of selected articles from L'Esprit Nouveau between 1920 and 1923.

The theoretical urban schemes continued to occupy Le Corbusier. He exhibited his Plan Voisin (sponsored by another famous automobile manufacturer) in 1925. In it, he proposed to bulldoze huge sections of Paris north of the Seine and replace it with his sixty-story cruciform towers from the Contemporary City, placed in an orthogonal street grid and park-like green space. His scheme was met with only criticism and scorn from French politicians and industrialists, although they were favorable to the ideas of Taylorism and Fordism underlying Le Corbusier designs. Nonetheless, it did provoke discussion concerning how to deal with the cramped, dirty conditions that enveloped much of the city.

Furniture

Le Corbusier began experimenting with furniture design in 1928 after inviting the architect Charlotte Perriand to join his studio. His cousin Pierre Jeanneret also collaborated on many of the designs. Before the arrival of Perriand, Le Corbusier relied on ready-made furniture to furnish his projects, such as the simple pieces manufactured by Thonet.

In 1928 Le Corbusier and Perriand began to put the expectations for furniture Le Corbusier outlined in his 1925 book L'Art Décoratif d'aujourd'hui into practice. In the book he defined three different furniture types; type-needs, type-furniture, and human-limb objects. He defined human-limb objects as: "Extensions of our limbs and adapted to human functions that are. Type-needs, type-functions, therefore type-objects and type-furniture. The human-limb object is a docile servant. A good servant is discreet and self-effacing in order to leave his master free. Certainly, works of art are tools, beautiful tools. And long live the good taste manifested by choice, subtlety, proportion and harmony".
The first results of the collaboration were three chrome-plated tubular steel chairs designed for two of his projects, The Maison La Roche house in Paris and a pavilion for Henry and Barbara Church. The line of furniture was expanded for Le Corbusier's 1929 Salon d'Automne installation Equipment for the Home. In the year1964, while Le Corbusier was still alive, Cassina S.p.A. of Milan acquired the exclusive worldwide rights to manufacture his furniture designs. Today many copies exist but Cassina is still the only manufacturer authorized by the Fondation Le Corbusier.

Death

On August 27, 1965, against his doctor's orders, Le Corbusier went for a swim in the Mediterranean Sea at Roquebrune-Cap-Martin, France. His body was found by bathers and pronounced dead at 11 am. It is assumed that he suffered a heart attack, at the age of 78. His death rites took place at the courtyard of the Louvre Palace September 1, 1965 under the direction of writer and thinker Andre Malraux, who was at the time France's Minister of Culture.

Le Corbusier's death had a strong impact on the cultural and political world. Homages were paid world wide and even some of Le Corbusier's worst artistic enemies, like painter Salvador Dalí, recognized his importance and sent a floral tribute. In the Cold War era, the President of the United States said: "His influence was universal and his works are invested with a permanent quality possessed by those of very few artists in our history". The Soviets replied: "Modern architecture has lost its greatest master". Japanese TV channels decided to broadcast simultaneously his Museum in Tokyo, in what was at the time a unique media homage.

Influence

Le Corbusier was at his most influential in the sphere of urban planning, and was a founding member of the Congrès International d'Architecture Moderne (CIAM). One of the first to realize how the automobile would change human agglomerations, Le Corbusier described the city of the future as consisting of large apartment buildings isolated in a park-like setting on pilotis. Le Corbusier's theories were adopted by the builders of public housing in the United States. For the design of the buildings themselves, Le Corbusier said "by law, all buildings should be white" and criticized any effort at ornamentation. The large spartan structures, in cities, but not of cities, have been widely criticized for being boring and unfriendly to pedestrians. The city plan of Brasília was based on his ideas, as was Chandigarh in India and the industrial city of Zlín in Czechoslovakia. Le Corbusier's thinking also had profound effects on the philosophy of city planning and architecture in the Soviet Union.

Le Corbusier was heavily influenced by the problems he saw in the industrial city of the turn of the century. He thought that industrial housing techniques led to crowding, dirtiness, and a lack of a moral landscape. He was a leader of the modernist movement to create better living conditions and a better society through housing concepts. Ebenezer Howard's Garden Cities of To-Morrow heavily influenced Le Corbusier and his contemporaries.

René Jules Lalique

René Jules Lalique was born in Ay, Marne, France on April 6, 1860, and died May 5, 1945.
He was a glass designer, renowned for his stunning creations of perfume bottles, vases, jewellery, chandeliers, clocks, and, in the latter part of his life, automobile hood ornaments. The firm he founded is still active.

At age 16, he apprenticed with the Parisian jeweler, Louis Aucoq. Then from 1878-1880 he attended Sydenham Art College in London, England. After returning to France, he worked for Aucoq, Cartier, Boucheron and others.

In 1882 he became a freelance designer for several top jewelry houses in Paris and four years later established his own jewelry workshop. By 1890, Lalique was recognized as one of France's foremost Art Nouveau jewelry designers; creating innovative pieces for Samuel Bing's new Paris shop, La Maison de l'Art Nouveau. He went on to be one of the most famous in his field, his name synonymous with creativity and quality.

In the 1920s he also became famous for his work in the Art Deco style. Among other things he was responsible for the walls of lighted glass and the elegant glass columns which filled the dining room and grand salon of the SS Normandie.

René Lalique is buried in Le Père Lachaise Cemetery, Paris, France.

Recognised as one of the world's greatest glass makers and jewellery designers of the art Nouveau and art Deco periods, Rene Jules Lalique was an imaginative and creative artist in all his work. Lalique's early life was spent in many different types of artistic businesses, acting as apprentice and assistant. This heavily influenced the designs he used in his later life, including his emphasis on glass. He used the most modern and innovative manufacturing techniques and equipment available, allowing more than one glass piece to be made at a time while still looking hand made, which meant his quality jewellery was available to the general public.

Rene Jules Lalique's early life was spent learning the methods of design and art he would use in his later life. He was born on the 6th of April, 1860, in the town of Ay, France. At the age of two his family moved to a suburb of Paris due to his fathers work, but travelled to Ay for summer holidays. These trips to Ay influenced Lalique's later naturalistic glasswork. When he was twelve, he entered the Collège Turgot where he started drawing and sketching. With the death of his father two years later, Lalique began working as an apprentice to the goldsmith Louis Aucoq in Paris, and attending evening classes at the Ecole des Arts Décoratifs. He worked here for two years and then moved to London to attend the Sydenham Art College for two years. At the Sydenham art college, his skills for graphic design were improved, and his naturalistic approach to art was further developed. When he returned from England, he worked as a freelance artist, designing pieces of jewellery for French jewellers. Following this, he opened a business in 1885, and designed and made his own jewellery and other glass pieces for the rest of his life.

Many things influenced Lalique's work, including the natural environment, and the art Nouveau and art Deco periods.. The summer holidays Lalique spent at Ay, in France, and the time he spent at the Sydenham college of Art in London, heavily influenced Lalique's naturalistic work. As a result, many of his jewellery pieces and vases showcase plants, flowers and flowing lines.

DAUM FRERES

Art nouveau (French for "new art") is a style in art, architecture and design that peaked in popularity at the beginning of the 20th century. Other, more localized terms for the cluster of self-consciously radical, somewhat mannered reformist chic that formed a prelude to 20th-century modernism, included Jugendstil in Germany, the Netherlands and Scandinavia, named for the avant-garde periodical Jugend ('Youth'), Mloda Polska ('Young Poland' style), or Sezessionsstil ('Secessionism') in Vienna, where forward-looking artists and designers seceded from the mainstream salon exhibitions, to exhibit on their own work in more congenial surroundings.

In Russia, the movement revolved around the art magazine Mir iskusstva ('World of Art'), which spawned the revolutionary Ballets Russes. In Italy, Stile Liberty was named for the London shop, Liberty & Co, which distributed modern design emanating from the Arts and Crafts movement, a sign both of the Art Nouveau's commercial aspect and the "imported" character that it always retained in Italy.
In Catalonia, the movement was centred in Barcelona and was known as modernisme, with Antoni Gaudí as the most noteworthy practitioner. Art Nouveau was also a force in Eastern Europe, with the influence of Alfons Mucha in Prague and Moravia (part of the modern Czech Republic) and Latvian Romanticism (Riga, the capital of Latvia, is home to over 800 Art Nouveau buildings). The entrances to the Paris Metro designed by Hector Guimard in 1899 and 1900 are famous examples of Art Nouveau.
History of Art Nouveau

Though Art Nouveau climaxed in the years 1892 to 1902, the first stirrings of an Art Nouveau can be recognized in the 1880s, in a handful of progressive designs such as the architect-designer Arthur Mackmurdo's often-illustrated bookcover design for his essay on the city churches of Sir Christopher Wren, published in 1883. Some free-flowing wrought iron from the 1880s could also be adduced, or some flat floral textile designs, most of which owed some impetus to vegetal-derived patterns of High Victorian design.

The name "Art Nouveau" derived from the name of a shop in Paris, Maison de l'Art Nouveau, at the time run by Siegfried Bing, that showcased objects that followed this approach to design.
A high point in the evolution of Art Nouveau was the Universal Exposition of 1900 in Paris, in which the "modern style" triumphed in every medium. It probably reached its apogee, however, at the 1902 Turin Exposition in Italy, where designers exhibited from almost every European country where Art Nouveau flourished. Ironically, Art Nouveau made use of many technological innovations of the late 19th century, especially the broad use of exposed iron and large, irregularly-shaped pieces of glass in architecture, but by the start of the First World War the highly stylized nature of Art Nouveau design - which itself was expensive to produce - began to be dropped in favor of more streamlined, simply rectilinear modernism that was cheaper and thought to be more faithful to the rough, plain industrial aesthetic.

Character of Art Nouveau

Dynamic, undulating and flowing, curved "whiplash" lines of syncopated rhythm characterize much of Art Nouveau. Another feature is usage of hyperbolas and parabolas. Conventional moldings seem to spring to life and "grow" into plant-derived forms.

As an art movement it has affinities with the Pre-Raphaelites and the Symbolism (arts) movement, and artists like Aubrey Beardsley, Alfons Mucha, Edward Burne-Jones, Gustav Klimt, and Jan Toorop could be classed in more than one of these styles. Unlike Symbolist painting, however, Art Nouveau has a distinctive visual look; and unlike the backwards-looking Pre-Raphaelites, Art Nouveau artists quickly used new materials, machined surfaces, and abstraction in the service of pure design.
Art Nouveau in architecture and interior design eschewed the eclectic historicism of the Victorian era. Though Art Nouveau designers selected and "modernized" some of the more abstract elements of Rococo style, such as flame and shell textures, in place of the historically-derived and basically tectonic or realistic naturalistic ornament of high Victorian styles, Art Nouveau advocated the use of highly-stylized nature as the source of inspiration and expanded the "natural" repertoire to embrace seaweed, grasses, and insects. Correspondingly organic forms, curved lines, especially floral or vegetal, and the like, were used.

Japanese wood-block prints with their curved lines, patterned surfaces and contrasting voids, and flatness of their picture-plane, also inspired Art Nouveau. Some line and curve patterns became graphic clichés that were later found in works of artists from all parts of the world.
Art Nouveau did not negate the machine, as other movements such as the Arts and Crafts Movement, but used it to an advantage. For sculpture the principal materials employed were glass and wrought iron, leading to sculpturesque quality even in architecture.
Art Nouveau is considered a "total" style, meaning that it encompasses a hierarchy of scales in design - architecture, interior design, jewellery, furniture and textile design, utensils and art objects, lighting, etc.

Art Nouveau media

2-dimensional Art Nouveau pieces were painted, drawn, and quite popular in printed material like advertising, posters, labels, magazines and the like.
Glass making was an area in which the style found tremendous expression - for example, the works of Louis Comfort Tiffany in New York and Émile Gallé and the Daum brothers in Nancy, France.
Jewelry of the Art Nouveau period revitalised the jeweller's art, with nature as the principal source of inspiration, complemented by new levels of virtuosity in enamelling and the introduction of new materials, such as opals and semi-precious stones. The widespread interest in Japanese art and the more specialised enthusiasm for Japanese metalworking skills, fostered new themes and approaches to ornament.

For the previous two centuries the emphasis in fine jewelry had been on gemstones, particularly on the diamond, and the jeweller or goldsmith had been principally concerned with providing settings for their advantage. With Art Nouveau, a different type of jewelry emerged, motivated by the artist-designer rather than the jeweller as setter of precious stones.

The jewellers of Paris and Brussels created and defined Art Nouveau in jewelry, and in these cities it achieved the most renown. Contemporary French critics were united in acknowledging that jewelry was undergoing a radical transformation, and that the French designer-jeweller René Lalique was at its heart. Lalique glorified nature in jewelry, extending the repertoire to include new aspects of nature - dragonflies or grasses - inspired by his encounter with Japanese art.

The jewellers were keen to establish the new style in a noble tradition, and for this they looked back to the Renaissance, with its jewels of sculpted and enamelled gold, and its acceptance of jewellers as artists rather than craftsmen. In most of the enamelled work of the period precious stones receded. Diamonds were usually given subsidiary roles, used alongside less familiar materials such as moulded glass, horn and ivory.

DONALD DESKEY

Donald Deskey was a design pioneer. He worked with Raymond Loewy, and made some of the most recognizable icons of the day. he designed the Crest toothpaste Packaging, as well as the Tide BullsEye. His company is still in operation both in Cincinnati as well as Philadelphia.
Donald Deskey also did much of the interior design of Radio City Music Hall.

EMILE GALLE
Émile Gallé (Nancy, 8 May 1846 - Nancy, September 23, 1904) was a French artist who worked in glass, and is considered to be one of the major forces in the French Art Nouveau movement.
Gallé was the son of a faience and furniture manufacturer and studied philosophy, botany, and drawing in his youth. He later learned glassmaking at Meisenthal and came to work at his father's factory in Nancy following the Franco-Prussian War. His early work was executed using clear glass decorated with enamel, but he soon turned to an original style featuring heavy, opaque glass carved or etched with plant motifs. His career took off after his work received praise at the Paris Exhibition of 1878.
Within a decade of another successful showing at the Paris Exhibition of 1889, Gallé had reached international fame and his style, with its emphasis on naturalism and floral motifs, was at the forefront of the emerging Art Nouveau movement.

He continued to incorporate experimental techniques into his work, such as metallic foils and air bubbles, and also revitalized the glass industry by establishing a workshop to mass produce his, and other artists', designs. The factory would employ 300 workers and artisans at its height, including the notable glassmaker Eugène Rosseau, and remained in operation until 1936.
Gallé wrote a book on art entitled Écrits pour l'art 1884-89 ("Writings on Art 1884-89"), which was published posthumously in 1908.

What is less well-known is Gallé's social engagement. He was a convinced humanist, and was involved in organizing evening schools for the working class (l'Université populaire de Nancy). He was treasurer of the Nancy branch of the Ligue Française pour la Défense des Droits de l'Homme and in 1898, at great risk for his business, one of the first to become actively involved in the defence of Alfred Dreyfus. He also publicly condemned the Armenian genocide, defended the Romanian Jews and as a Protestant, spoke up in defence of the Irish Catholics against Britain, supporting William O'Brien, one of the leaders of the Irish revolt

EILEEN GRAY

Eileen Gray (August 9, 1878 - October 31, 1976) was an Irish lacquer artist, furniture designer, and architect now well-known for incorporating luxurious lacquer work into the stark International Style aesthetic.

Early life

She first studied painting at London's Slade School of Art. She eventually left painting to study lacquer under the guidance of lacquer craftsman, Sugawara.
In 1913, she held her first exhibition, showing some decorative panels at the Salon des Artistes Décorateurs. She combined lacquer and rare woods, geometric abstraction and Japanese-inspired motifs into her work. It attracted the attention of Jacques Doucet, an art connoisseur and collector. He commissioned a few pieces - her only signed and dated creations.
Her work went mostly unnoticed. In London after the start of World War I, Gray needed to rely on her family's financial support. Near the end of the war, Gray was commissioned to decorate an apartment on Rue de Lota in Paris. Her interior designs generated a great deal of praise in the press. She opened the Jean Desert Gallery in 1922.

Increased Notoriety

Shortly thereafter, persuaded by Le Corbusier and Jean Badovici among others, she turned her interests to architecture. In 1924 Gray and Badovici began work on the house E-1027 in Roquebrune, Cap Martin in southern France (near Monaco). L-shaped and flat-roofed with floor-to-ceiling windows and a spiral stairway to the guest room, E-1027 was both open and compact. Gray designed the furniture as well as collaborated with Badovici on its structure. Her circular glass E-1027 table and rotund Bibendum armchair were inspired by the recent tubular steel experiments of Marcel Breuer at the Bauhaus (who had been inspired, in turn, by Mart Stam). The house is now in poor repair.
In 1968, a complimentary magazine article quickly grew into an unexpected hit, and the Bibendum chair and E-1027 table went back into production. Following the purchase of her archive in 2002, the National Museum of Ireland at Collins Barracks, Dublin opened a permanent exhibition of her work. On the 8th November 1972, The Doucet sale added to the interest which continues to this day in the 'antiques' of the twentieth century. Grays 'Le Destin' screen was featured in the sale and went for a staggering figure of $36,000. Collectors entered the chase, and Yves Saint Laurent's interest completed the mythification of her image.

Personal life

Gray was bisexual. She mixed in the lesbian circles of the time, to include associations with Romaine Brooks, Gabrielle Bloch and her lover Loie Fuller, the singer Damia, and Natalie Barney. Gray's intermittent relationship between Damia (or Marie-Louise Damien) ended in 1938, after which they never saw each other again, although both lived into their nineties in the same city. Gray also, for some time had an intermittent relationship with Jean Badovici, the Romanian architect and writer. He had written about her design work in 1924 and encouraged her interest in architecture. Their romantic involvement ended in 1932

WALTER GROPIUS

Walter Adolph Georg Gropius (May 18, 1883 - July 5, 1969) was a German architect and founder of Bauhaus.

Life

Gropius married Alma Mahler (1879-1964), the widow of Gustav Mahler. Walter and Alma's daughter, named Manon after his mother, was born in 1916. When Manon died of polio at age eighteen, composer Alban Berg wrote his Violin Concerto in memory of her (it is inscribed "to the memory of an angel"). Gropius and Alma divorced in 1920. (Alma had by that time established a relationship with Franz Werfel, whom she later married.) In 1923 Gropius married Ise Frank (d. 1983), and they remained together until his death.

Gropius, like his father and great-uncle Martin Gropius before him, was an architect. But all sources agree that Walter Gropius could not draw, and was dependent on collaborators and partner-interpreters all through his career. In school he hired an assistant to complete his homework for him. In 1908 Gropius found employment with the firm of Peter Behrens, one of the first members of the utilitarian school. His fellow employees at this time included Ludwig Mies van der Rohe and Dietrich Marcks. In 1910 Gropius left the firm of Behrens and together with fellow employee Adolf Meyer established a practice in Berlin. Together they share credit for one of the seminal modernist buildings created during this period, the Faguswerk, Alfeld-an-der-Leine, Germany, a shoe last factory. The glass curtain walls of this building demonstrated both the modernist principle that form reflect function and Gropius's concern with providing healthful conditions for the working class. Other works of this early period include the office and factory building for the Werkbund Exhibition (1914) in Cologne.

Gropius's career was interrupted by the events of 1914. Called up immediately as a reservist, Gropius served as a sergeant major at the Western front during the war years. Ironically the war provided an opportunity which would advance his career during the post war period. Henry van de Velde, the master of the Grand-Ducal Saxon School of Arts and Crafts in Weimar was asked to step down in 1915 due to his Belgian nationality. His recommendation of Gropius to succeed him led eventually to Gropius's appointment as master of the school in 1919. It was this academy which Gropius transformed into the world famous Bauhaus, attracting a faculty which included Paul Klee, Johannes Itten, Josef Albers, Herbet Bayer, László Moholy-Nagy, and Wassily Kandinsky. Students were taught to use modern and innovative materials and mass-produced fittings, often originally intended for industrial settings, to create original furniture and buildings.

Also in 1919, Gropius was involved in the Glass Chain utopian expressionist correspondence under the pseudonym 'Glass'. Usually more notable for his functionalist approach, the "Monument to the March Dead" indicates that expressionsism has clearly an influence on him at this time.
In 1923, Gropius designed one of his most famous works, door handles, now considered an icon of 20th century design and often listed as one of the most influential designs to emerge from the Bauhaus.
Gropius fled Germany in 1934 due to the rising power of the Nazi Party, and lived and worked in Britain, at the Isokon project, and then, from 1937 to the United States, where his own house, the Gropius House in Lincoln, Massachusetts, was influential in bringing International Modernism to the US. Gropius did not like the term: "I made it a point to absorb into my own conception those features of the New England architectural tradition that I found still alive and adequate"
Gropius and his Bauhaus protégé Marcel Breuer both moved to Cambridge, Massachusetts to teach at the Harvard Graduate School of Design and collaborate on the company-town Aluminum City Terrace project in New Kensington, Pennsylvania, before their professional split. In 1944, he became a naturalized citizen of the United States.

In 1945, Gropius founded The Architects' Collaborative (TAC) based in Cambridge with a group of younger architects. The original partners included Norman C. Fletcher, Jean B. Fletcher, John C. Harkness, Sarah P. Harkness, Robert S. MacMillan, Louis A. MacMillen, and Benjamin C. Thompson. TAC would become one of the most well-known and respected architectural firms in the world. TAC went bankrupt in 1995.

Gropius died in 1969 in Boston, Massachusetts, aged 86. Today, he is remembered not only by his various buildings but also by the district of Gropiusstadt in Berlin.

JOSEF HOFFMAN

Josef Hoffmann (December 15, 1870 - May 7, 1956) was an Austrian architect and designer of consumer goods. He studied with Otto Wagner. He played a major part in the shaping of the aesthetic perception and aesthetic understanding of the 20th century.

In today's Czech Republic (including Bohemia and Moravia), the results of the Industrial Revolution were more obvious than in the other parts of the Austro-Hungarian Empire. Josef Hoffmann (born in 1870 in Pirnitz, Moravia, now Brtnice, Czech Republic) and Adolf Loos both came from that same area. Many creative minds derived from this region and enriched Vienna's economic life in the empire at the turn of the century.

From 1887, Hoffmann attended the technical college in Brünn, where he studied the methods of classical architecture. After his practical year in Würzburg as a student of architecture, Hoffmann studied from 1892 at the Academy of Fine Arts in Vienna built by Theophil Freiherr von Hansen. His teacher, Karl Freiherr von Hasenauer was then at the peak of his popularity due to his "Ringstraßenbuildings".

After Hasenauer's death, Otto Wagner, the most famous architect at the end of the nineteenth century, took over his class. A scholarship from the "Prix de Rome" enabled Hoffmann to stay in Italy. After his return, Hoffmann joined the office of Otto Wagner. There he got acquainted with Josef Maria Olbrich.

Vienna Sezession

Together with other artists, Josef Hoffmann established the so-called "Siebener Club". After Hoffmann demonstratively left the Künstlerhaus with a number of colleagues including Gustav Klimt and Kolo Moser, an organisation of graphic artists, the Secession, was founded in 1897. The new organisation's home built by Josef Maria Olbrich offered young Hoffmann, as an organiser of the exhibitions, ideal opportunities to present himself to an art loving and progressive circle of potential clients. The society of those days seemed to show an interest in art to an extent which was unknown before. The conventional salons, academies and the like very quickly lost their influence in the same way - as modernity questions the authority of tradition.

Hoffmann's works from this time were clearly influenced by Otto Wagner's school, which determined the structure of an object through the emphasis on the surface. This was as important to Hoffmann as Belgian Art Nouveau influenced the Secessionists.

In 1899 Hoffmann was appointed as a professor at the Viennese School of Applied Arts(Kunstgewerbeschule) and commissioned for the interior-design at the World Fair in Paris in 1900. Starting from the beginning of the 20th century a basic change in his style can be noticed. With the turning away from the curves of the Secession and Art Nouveau a trend towards simpler forms appeared. At this time patterns from Britain had their special influence on Hoffmann. His admiration of the latest developments in architecture and applied arts in Britain is easy to be explained. On the one hand numerous illustrated magazines allowed an exchange of information. On the other hand there was a number of Secession exhibitions where British artists took part amongst them C.R. Ashbee and Charles Rennie Mackintosh.

Starting with the 14th exhibition of the Vienna Sezession (1902) there was a strict move to independence from other countries with the benchmark of The "Suppraportenrelief", a cubist engraving in plaster, designed by Josef Hoffmann for the foyer of the Secession building.
Hoffmann's explanation for his favour for circles and squares was that these forms never have been used before in applied and fine arts.

Hohe Warte

During this very important phase of development Hoffmann was appointed to build a colony of villas on the hills of the Hohe Warte in Vienna. Due to the Secession activities, Hoffmann was a close friend of the customers, and this gave him the chance to design houses that suited both his and the builders' ideal. This was to reach an unity of both, the outside and inside, or as in Hoffmann's own words, "to build a house who's exterior is one with the interior".

He moved away from the Secession and for the first time he reveals his own unmistakable and independent style. Hoffmann's turn away from the sweeping curves of Art Nouveau and his turn towards simpler forms has to be seen in the historic context of moving away from the floral Jugendstil, which started to spread in Europe around 1900 and went along with the renaissance of classical ideals. Following the Hohe Warte houses Hoffmann was appointed to do the interior decoration of a number of Viennese apartments. At that time he was Vienna's most fashionable architect. His works were so revolutionary that one could say, a new era had begun. In later years Hoffmann explained his interest in square shapes and the often use of black and white of those days by arguing that these clear elements never had been incorporated in the styles of previous epochs.

The sculpture "Supraportenrelief" was created by Hoffmann for the fourteenth exhibition of the Secession in 1902 . It is known for its final turning point towards a new feeling for design. Workshops started all over the world to find new and contemporary forms, which no longer wanted to follow the example of historical tradition.

The Wiener Werkstätte

With the fortune of the young and art loving industrialist Fritz Wärndorfer and with the enthusiasm and creative power of Kolo Moser and Josef Hoffmann the Wiener Werkstätte was founded in May 1903 - the productive community of artists and craftsmen who was meant to impress the life of Hoffmann deeply as well as that of the whole Viennese art scene.

The clear goal of the Wiener Werkstätte was to include all prospects of human life into one unified work of art. It was also decided to approve only objects of outstanding individuality and beauty and high attention was put on exclusive and exquisite craftsmanship. This followed the organisation's motto: better to work ten days at one piece than to manufacture ten pieces in one day.
The Wiener Werkstätte created pieces of arts, in a very distinctive style: the Wiener Werkstätte Style.
Sanatorium Purkersdorf

Between 1902 and 1904 Hoffmann's purist phase reached its peak and he concentrated solely on the reform of the element. Such an amount of purism often went against the wishes and intentions of his patrons, as they often longed for the richness of historical furniture which was meant to match with their lifestyle. Hoffmann's artistic fantasy would later be able to react on such a demand. Once he had moved away from his phase of riding himself of historic weights he was again ready to let Art deco developments flow into his work.

The first big order for Josef Hoffmann and the Wiener Werkstätte, the building of the Sanatorium Purkersdorf (1904) including its interior design, came about by the acquaintance of the building contractor with the art critic Berta Zuckerkandl. As a supporter of the Secession and admirer of Josef Hoffmann, she recommended him to the builder.

The Sanatorium was designed for a circle of well-off patients. Dedicated to the highest levels of comfort and luxury, in its construction Hoffmann made use of the most modern available techniques - reinforced concrete. His original plan showed that he was inclined to take even more radical advantage of new construction techniques than in practice were actually possible. Decoration on the building was used sparingly. The intended purpose of the Sanatorium pulled for a level of hygienic sobriety which helped Hoffmann in his design. After 1904 a number of projects were carried out where Hoffmann's search for simple forms are clearly perceivable but the choice of material and the working methods made the objects even more splendid and opulent.

Palais Stoclet

The internationally recognised peak of Hoffmann's career is the Palais Stoclet in Brussels. Its dimension, quality and architectural significance was an accomplishment that was not to be surpassed throughout his long career. Not only had materials and techniques of manufacturing become more complicated but also a change into a new direction of Hoffmann's creative work is distinguishable as of 1905, when a return to shapes of classicism occurred.

All these tendencies were channelled into the building and coupled with the financial strength of Baron Stoclet. This order resulted in Europe's probably most spectacular masterpiece of complete art of its epoch. When building the Palais Stoclet, the relationship between the patron and his architect was the happiest imaginable. A fact which is clearly expressed in the consequent atmosphere and quality of the building where no compromises were made, neither with the outside finish nor with the interior.
The same artists, who worked on Stoclet were also involved in the design of the Cabaret Fledermaus in Vienna. Apart from Hoffmann many other artists like Czeschka Wimmer-Wisgrill. In 1912 they were the founders of the Austrian artist group "Werkbund".

Later life

Before Word War I the works of Josef Hoffmann shortly reveal an individual approach to classicism and ideally reflect the need of representation of a social class, whose days were already counted due to political circumstances. The Villa Skywa-Primavesi was Hoffmann's last great performance before the war, whose outbreak put an end to private enterprises for a number of years.
After 1919, Josef Hoffmann was very ill for many years. He even had to pass on the management of his studio to Oswald Haertl for some time. But Hoffmann applied himself to the creation of new forms till his death.

After World War II, Hoffmann assumed a number of official duties but received less commissions for design. His official engagements comprised the membership of the art-senate and the Austrian general commissioner for the Biennalein Venice.

In May 1956, Hoffmann died at the age of 85. His life's work includes all areas of fine arts. As the initiator of the Vienna Sezession he had a decisive influence on the drawings and the painting of his time. As a founder of the Wiener Werkstätte he revolutionised the arts and crafts.

ISOKON

The London-based Isokon firm was founded in 1929 to design and construct modernist houses and flats, and subsequently furniture and fittings for them. Originally called Wells Coates and Partners, the name was changed in 1931 to Isokon, a name derived from Isometric Unit Construction, bearing an allusion to Constructivism.

Unusually for a design company, its directors were a bacteriologist Molly Pritchard, a solicitor Frederick Graham-Maw,son of the founder of the law firm, Rowe and Maw, Frederick James Maw and an economist Robert S Spicer. In actuality, the company was run by Molly's husband Jack Pritchard whose initial involvement was to handle the economics, publicity and marketing, but who later went on to hire designers and direct the company.

Isokon's key project was the Lawn Road Flats in Hampstead, sometimes called the Isokon building, which opened on 9 July 1934. Intended to be the last word in contemporary modernist living, the block of flats were aimed at the market of new young professionals of the 1930s and contained 22 single flats, 4 double flats, 3 studio flats, staff quarters, kitchens and a large garage. In 1937 a club, the Isobar, was added to the complex.

The flats and paticularly the bar became famous as a centre for intellectual life in North London, famous residents included Agatha Christie, and regulars at the Isobar included Henry Moore, Barbara Hepworth and Ben Nicholson.

In 1935, Walter Gropius, the former head of the Bauhaus, became Controller of Design for Isokon. He arrived in England on 18 October 1934 and lived in one of the Lawn Road Flats until March 1937, when he and his wife left for USA.

A month before he left for the USA, Gropius recommended Marcel Breuer, a former colleague at the Bauhaus, as his replacement for Controller of Design. The furniture Breuer designed whilst at Isokon are highly influential pieces of the modernist movement, and included chairs, tables and the Long Chair.
László Moholy-Nagy, another former Bauhaus teacher, also became involved with Isokon when he arrived in Britain from Germany in May 1935 and designed promotional material, including sales leaflets, showcards and the logo of Isokon firm itself, which was an outline of curved plywood chair.
However Isokon was never commercially successful. But the end came when World War II began and its supply of plywood was cut off. The Isokon Furniture Company ceased production in 1939.
Jack Pritchard revived Isokon Furniture Company in 1963. However changes in the manufacture of plywood meant a redesign of some of the key pieces in the Isokon portfolio, for which Pritchard hired Ernest Race. In 1968, Pritchard licensed John Alan Designs to produce the Long Chair, Nesting Tables and the Penguin Donkey 2 which the company did until 1980.

In 1982, Chris McCourt of Windmill Furniture took over the license to manufacture Isokon pieces. Since 1999, this furniture has been sold through the retail arm of Windmill's, Isokon Plus in Chiswick, London.
Isokon furniture - Isokon Stool (designer unknown, 1933) - Isokon Book Units (designed by Wells Coates, 1933) - Desk made from Isokon Book Units (designed by Wells Coates, 1933) - Aluminium Waste Paper Basket (designed by Walter Gropius, 1935) - Side Table GT2 (designed by Walter Gropius, 1936) - Isokon Nesting Tables (designed by Marcel Breuer, 1936) - Isokon Dining Table (designed by Marcel Breuer, 1936) - Isokon Stacking Chairs (designed by Marcel Breuer, 1936) - Isokon Long Chair (designed by Marcel Breuer, 1935-6) - The Pocket Bottleship (designed by Egon Riss, 1939) - The Pocket Bottleship Mark 2 (designed by Ernest Race, 1963) - The Penguin Donkey (designer by Egon Riss, 1939) - The Penguin Donkey Mark 2 (designed by Ernest Race, 1963)

JULES LELEU

Jules Leleu (1883-1961) was a French Art Deco Designer.
He was born in Boulogne-sur-Mer, France and at age 26 succeeded his father in the family painting business. With his brother he began work in the Decorating field. After World War I, Leleu specialized in furniture making. He opened a Paris gallery in 1924 and exhibited at the 1925 Exposition Industrielle et Arts Decoratifs. Leleu designed the Grand Salon of the Ambassadors at the Society of Nations in Geneva and the French Embassies of several nations. He contributed furnishings for numerous steamships in the 1930s.

TAMARA DE LEMPICKA

Tamara de Lempicka (May 16, 1898, Warsaw, Poland - March 18, 1980 Cuernavaca, Mexico) , noted Art Deco painter, was born Maria Górska in a wealthy family in Warsaw, Poland (then in the Russian Empire).

Early life

In 1912, after her parents divorced, she was sent by her grandmother to school in Lausanne, Switzerland. In 1914 she married a lawyer named Tadeusz Lempicki in St. Petersburg, Russia.
Russian Revolution

In 1917, during the Russian Revolution, Tadeusz was arrested by the Bolsheviks. Although only seventeen years old, Tamara pleaded for, and finally secured, his release.
The Lempickis then fled to Paris, France where she became known as Tamara de Lempicka. She studied art and became a well-known portrait painter, developing a distinctive and bold style, sometimes referred to as soft cubism, which epitomizes the cool modernism of Art Deco.

Social Life

Tamara de Lempicka was bisexual, and her affairs with both men and women were carried out in ways that were scandalous at the time. She often used formal and narrative elements in her portraits and nude studies to produce overpowering effects of desire and seduction.
Following World War I she became closely associated with lesbian and bisexual women in writing and artistic circles, such as Violet Trefusis, Vita Sackville-West, and Colette. She also became involved with Suzy Solidor, a night club singer at Boîte de Nuit, whom she later painted.

At the outset of the second World War she moved to Beverly Hills, California with her second husband, Baron Raoul Kuffner, whom she married in 1933. In 1943 they relocated to New York City where she continued to paint in her trademark style.

After Baron Kuffner's death from a heart attack in 1962, Tamara moved to Houston, Texas and began painting in a new style, using a palette knife rather than a brush to lay down the paint. Her new paintings were not well received, and Tamara swore that she would never exhibit her work again.
She later ceased painting and in 1978 she moved to Cuernavaca, Mexico. She died in her sleep on March 19, 1980 and her ashes were scattered over the volcano Popocatepetl by Count Giovanni Agusta.

EDWARD MAUFE

Sir Edward Brantwood Maufe was an English architect born 12th December 1883 in Ilkley. He died on his birthday in 1974 in Buxted, East Sussex. His works include Kelling Hall in Norfolk, the Festival Theatre in Cambridge, the Air Forces Memorial overlooking Runnymede, the Oxford Playhouse, St Columba's Church (Pont Street, London, SW1) and Guildford Cathedral 1932.

Apparently indexed in the on-line 1901 Census as "Edward B.Muff" an architect in Hampstead, he moved with his parents during the next decade to Red House, Bexleyheath, London which was originally designed for, and owned by William Morris. When he received a knighthood early in 1954, Edward lived at 139 Old Church Street, Chelsea, London SW3.

KOLOMAN MOSER

Koloman Moser (March 30, 1868-October 18, 1918) was an Austrian artist who exerted an incomparable influence on twentieth-century graphic art and one of the foremost artists of the Vienna Secession movement. During his short life, Moser designed an astounding array of art works - books and graphic works from postage stamps to magazine vignettes; fashion; stained glass windows, porcelains and ceramics, blown glass, tableware, silver, jewelry, and furniture - to name a few of his interests
He studied at the Wiener Akademie and the Kunstgewerbeschule, where he also taught from 1899.
His designs in architecture, furniture, jewelry, graphics, and tapestries helped characterize the work of this era. Moser drew upon the clean lines and repetitive motifs of classical Greek and Roman art and architecture in reaction to the Baroque decadence of his turn-of-the-century Viennese surroundings. In 1903, Moser and his colleague Josef Hoffmann founded the Wiener Werkstätte, whose workshops produced a number of aesthetically and functionally designed household goods, including glassware, flatware, silverware, and textiles.

In 1901/1902, he published a portfolio titled Die Quelle(The Source) of elegant graphic designs for such things as tapestries, fabrics, and wallpaper.

In 1904, he created the Apse mosaic and glass windows for the Kirche am Steinhof in Vienna.
In 1905, together with the Klimt group, he separated from the Vienna Secession.

OMEGA WORKSHOPS
The Omega Workshops were a design enterprise by members of the Bloomsbury group and were founded in 1913.

Critic Roger Fry formed the company and works were shown anonymously, marked only with the letter omega.

Vanessa Bell and Duncan Grant produced designs for Omega, and Wyndham Lewis was initially part of the operation. Lewis however split off at an early stage, taking with him several other participants to start the Rebel Art Centre after accusing Fry of misappropriating a commission to decorate a room at the Ideal Home Exhibition in the autumn of 1913.

Edward Wolfe worked at the Omega Workshops handpainting candle-shades, trays and decorating furniture. Wolfe, who died in 1982, was one of the last of the Bloomsbury painters.
Omega closed in 1919, but became influential in interior design in the 1920s.
A revival of interest in Omega designs in the 1980s led to a reassessment of the place of the Bloomsbury group in visual arts.

ORREFORS

Orrefors Glasbruk is the Swedish glassworks from the town Orrefors. The house was founded in 1898 and originally made window glass and practical objects such as jam jars. However the company changed ownership in 1913, and by 1916 attempted to take their work into a more artistic direction. Two Swedish painters, Simon Gate and Edvard Hald, were hired to decorate and design the glass, despite neither of them having any experience with the medium. They were later joined by other artists like Vicke Lindstrand and Edvin Öhrstrom. Each of these people had their own artistic style, but together created several unique features and innovations. One of these was Graal glass, where colored relief decorations are encased in another layer of colorless and transparent crystal which gives a smooth surface. A similar technique was devised in 1936 which trapped air within the walls of the glass. This was known as Ariel, a name derived from Shakespeare's play The Tempest. A major influence of theirs was the Art Nouveau work of the French artist Émile Gallé. Their designs use characteristic clean lines of brilliant crystal that suggests a frozen liquid. Their work was greatly admired when it was displayed to a wide audience at the Paris Ehibition of 1925. The glass house came to be a leading producer during the interwar period. In more recent times the factory has also become noted for its chandelier-making. However some of the older designs are still produced today.

GIO PONTI

Giò Ponti (18 November 1891, Milan- 16 September, 1979, Milan) was an Italian architect. His parents were Enrico Ponti and Giovanna Rigone. Gio Ponti did military service during World War I in the Pontonier Corps with the rank of captain, from 1916 to 1918, receiving the Bronze Medal and Miliitary Cross.
Gio Ponti graduated with a degree in architecture in 1921 from the Milan Polytechnic, and set up a studio with the architects Mino Fiocchi and Emilio Lancia in Milan. Later, he went into partnership with Lancia (Studio Ponti e Lancia, PL: 1926-1933); then with the engineers Antonio Fornaroli and Eugenio Soncini (Studio Ponti-Fornaroli-Soncini, P.F.S.:1933-1945).

In 1921, he married Giulia Vimercati; they were to have four children and eight grandchildren. From 1923 came his public debut at the first Biennial Exhibition of the Decorative Arts in Monza, which was followed by his involvement in organization of the subsequent Triennial Exhibitions on Monza and Milan.
From 1923 to 1930 he worked at the Manifattura Ceramica Richard Ginori, in Milan and Sesto Fiorentino, changing the company's whole output.

In 1928 he founded the magazine Domus. From 1936 to 1961 he was professor on the permanent staff of the Faculty of Architecture at the Milan Polytechnic.

In 1941 he resigned as editor of the magazine Domus and set up the magazine Stile, which he edited until 1947. In 1948 he returned to Domus, of which he remained the editor until the end of his life.
In 1952 he went into partnership with the architect Alberto Rosselli (Studio Ponti-Fornaroli-Rosselli, P.F.R.: 1952-1976); after the death of Rosselli he continued to work with his long time partner Antonio Fornaroli

GERRIT RIETVELD

Gerrit Thomas Rietveld (Utrecht June 24, 1888 - Utrecht June 26, 1964), was a Dutch designer, architect and cabinet maker.

In 1911, Rietveld started his own furniture factory, while studying architecture. Rietveld designed the Red and Blue Chair in 1918, influenced by the 'De Stijl' movement, of which he became a member in 1919, the same year in which he became an architect. In 1924 he designed the Schröder house for Truus Schröder-Schräder, with whom he cooperated. The house is located in Utrecht. The house, while guided by geometric forms, is asymmetrical.

Rietveld broke with the 'De Stijl' movement in 1928 and switched to the Nieuwe Zakelijkheid. The same year he joined the Congres Internationaux d'Architecture Moderne.
He designed the "Zig-Zag" chair in 1934 and started the design of the Van Gogh Museum in Amsterdam.

EMILE-JACQUES RUHLMANN

Émile-Jacques Ruhlmann (28 August 1879, Paris - 1933), his first names often seen reversed as Jacques-Émile, was a renowned French designer of furniture and interiors, epitomising for many the glamour of the French Art Deco style of the 1920s.

He was born in Paris from Alsatian parents who were in the general decorating business. When his father died in 1907 he took over the family firm.

In 1919 Ruhlmann founded, with Pierre Laurent, the company Ruhlmann et Laurent, specialising in interior design and producing luxury home goods that included furniture, wallpaper and lighting. By this time, Ruhlmann was making formal elegant furniture using precious and exotic woods in combination with ivory fittings, giving them a classic, timeless appeal.

Ruhlmann's legacy as a designer was the subject of a major retrospective exhibition at the New York Metropolitan Museum of Art in 2004.

SUSIE COOPER

Susie Cooper (October 29, 1902 - July 28, 1995) was a prolific ceramic designer working in the Stoke-on-Trent pottery industries from the 1920s to the 1980s.

Life and work

Born in the Stanfields area of Stoke-of-Trent, she was the youngest of seven children. From an early age she developed an interest in drawing, and began her art education by attending night classes at the Burslem School of Art. In 1922, she joined A.E. Gray & Co. Ltd, partially as a means to gain entry to the Royal College of Art.

A. Edward Gray quickly discovered her talents as a painter and designer, and soon enough Susie was producing her hand-painted floral designs. In 1923, A.E.Gray launched the Gloria Lustre Range employing the technique of lustreware. In 1929, motivated by her desire to design ceramic shapes in addition to decors, she broke away with her brother-in-law Albert "Jack" Beeson to set up her own business, as Susie Cooper Potteries.

Susie worked for many other pottery firms over the next several decades, including Wedgwood. In 1940, she was awarded the Royal Designer for Industry by the Royal Society of Arts, and in 1979 she received an OBE. By all accounts Elizabeth, The Queen Mother was an admirer of her work.
At the age of 80 she retired to live on the Isle of Man, where she died in 1995. Like other Potteries based ceramic designers such as Clarice Cliff and Charlotte Rhead, her work has become highly sought after and valued by pottery collectors.

LOUIS COMFORT TIFFANY

Louis Comfort Tiffany (February 18, 1848 - January 17, 1933) was an American artist and designer who is best known for his work in stained glass and is the American artist most associated with the Art Nouveau movement. Tiffany was a painter and interior decorator and designed stained glass windows and lamps, glass mosaics, blown glass, ceramics, jewelry, enamels and metalwork.

Personal life

Louis was the son of Charles Lewis Tiffany, founder of Tiffany and Company; and Harriet Olivia Avery Young. Louis married Mary Woodbridge Goddard (c1850-1884) on May 15, 1872 in Norwich, Connecticut and had the following children: Mary Woodbridge Tiffany (1873-1963) who married Graham Lusk; Charles Louis Tiffany I (1874-1874); Charles Louis Tiffany II (1878-1947); and Hilda Goddard Tiffany (1879-1908). After the death of his wife, he married Louise Wakeman Knox (1851-1904) on November 9, 1886. They had the following children: Louis Comfort Tiffany II (1887-1974); Julia DeForest (1887-1973); Annie Olivia Tiffany (1888-1892); and Dorothy Trimble Tiffany (1891-1979).
He went to school at the Eagleswood Military Academy in Perth Amboy, New Jersey. His first artistic training was as a painter, studying under George Inness and Samuel Coleman in New York City, and Léon Bailly in Paris.

Career

He became interested in glassmaking from about 1875 and worked at several glasshouses in Brooklyn between then and 1878. In 1879 he joined with Samuel Colman and Lockwood de Forest to form 'Louis Comfort Tiffany and Associated American Artists. Tiffany's leadership and talent, as well as by his father's money and connections, led this business to thrive.

A desire to concentrate on art in glass led to the breakup of the firm in 1885, when Tiffany chose to establish his own glassmaking firm later that same year. The first Tiffany Glass Company was incorporated on December 1, 1885, which in 1900 became known as the Tiffany Studios.
Tiffany used opalescent glass in a variety of colors and textures to create a unique style of stained glass. This can be contrasted with the method of painting in glass paint or enamels on colorless glass that had been the dominant method of creating stained glass for several hundred years in Europe. Use of the colored glass itself to create stained glass pictures was motivated by the ideals of the Arts and Crafts movement and its leader William Morris in England. Fellow artist and glassmaker John La Farge was Tiffany's chief competitor in this new American style of stained glass. Both La Farge and Tiffany had learned their craft at the same glasshouses in Brooklyn in the late 1870's.

In 1893 Tiffany built a new factory, called the Tiffany Glass Furnaces, which was located in Corona, Queens, New York. In 1893 his company also introduced the term, Favrile in conjunction with his first production of blown glass at his new glass factory. Some early examples of his lamps were exhibited in the 1893 World's Fair in Chicago.

He trademarked Favrile (from the old French word for handmade) on November 13, 1894. He later used this word to apply to all of his glass, enamel and pottery. Tiffany's first commercially produced lamps date from around 1895. Much of his company's production was in making stained glass windows and Tiffany lamps, but his company designed a complete range of interior decorations. At its peak, his factory employed more than 300 artisans.

He used all his skills in the design of his own house, the 84-room Laurelton Hall, in Oyster Bay, Long Island, completed in 1904. Later this estate was donated to his foundation for art students along with 60 acres (243,000 m²) of land, but destroyed by a fire in 1957.

The Charles Hosmer Morse Museum of American Art in Winter Park (Orlando), Florida, houses the world's most comprehensive collection of the works of Louis Comfort Tiffany including Tiffany jewelry, pottery, paintings, art glass, leaded-glass windows, lamps, and the incredible chapel interior he designed for the 1893 World's Columbian Exposition in Chicago. Put into storage after the Exposition closed, the chapel is so large it occupies an entire wing of the museum. Many glass panels from Laurelton Hall are also there; for many years they were on display in a local restaurant. These were replaced by full scale color transparencies after the museum opened.

Tiffany maintained close ties with the family firm. The Tiffany Company sold many products produced by the studios. He became Artistic Director of Tiffany & Co. after his father's death in 1902. The Tiffany Studios remained in business until 1928.

VAN CLEEF & ARPELS

A famous French jewelry house; its origins in 1896 lay in the hands of Alfred Van Cleef and his father in law Salomon Arpels. They occupied their first shop in the Place Vendome at number 22, where their premises are still located.

Alfred Van Cleef served as an apprentice to Messrs David et Grosgeat before becoming a salesman for the same firm. In 1898 he married his cousin Esther Arpels. Alfred had a good understanding of the techniques of stone cutting as well as being a skilled administrator; his wife looked after the accounts in the company's infancy.

A third Arpels brother joined in 1912, and his genial personality helped woo important clients including such celebrities as Marlene Dietrich and Maurice Chevalier.

The firm's pre-1920 jewellery is characterised by fluid lines, graceful curves, colour and a poetic sense of movement, evident of the Art Nouveau style.

For the coronation of Farah Pahlavi, the former empress of Iran, Van Cleef & Arpels received the order of designing and building a crown in 1967. The 4-pound pearl, ruby, diamond and emerald crown she received at her 1967 coronation took Pierre Arpels of Van Cleef & Arpels six months to make. Although she had to leave many of her jewels behind when she left with her husband in exile in the late 1979, her crown is still in the Iranian Crown Jewels, located in the Iranian Central Bank in Tehran.
Gucci produces a line of beauty products using the Van Cleef & Arpels brand name.

VILLEROY AND BOCH

Villeroy & Boch is the world's largest manufacturer of ceramics. The company's main seat is in Mettlach, Germany.

The company began in the tiny French village of Audun le Tiche where François Boch set up a pottery company with his three sons in 1748.
Today, the Group Chairman of Villeroy & Boch, Wendelin von Boch-Galhau, is an eighth generation descendant of the founder, whilst the Tableware Division is headed by Nicolas Villeroy, a seventh generation descendant.

The company is famous worldwide for innovative designs of co-ordinated tableware, glassware, cutlery and accessories.

OTTO WAGNER

Otto Koloman Wagner (13 July 1841-11 April 1918) was an Austrian architect.
Wagner was born in Penzing, a suburb of Vienna. He studied in Berlin and Vienna. In 1864, he started designing his first buildings in the historicist style. In 1884, he became a teacher in the school of architecture of the Academy of Fine Arts Vienna.

In the 1890s, he designed several building in the Art Nouveau style. He was very interested in urban planning - in 1890 he designed a new city plan for Vienna, but only his urban rail network, the Stadtbahn, was built. In 1895 he published a textbook entitled Modern Architecture in which he expressed his ideas about the role of the architect. His style incorporated the use of new materials and new forms to reflect the fact that society itself was changing. In his textbook, he stated that "new human tasks and views called for a change or reconstitution of existing forms". In pursuit of this ideal, he designed and built structures that reflected their intended function, such as the austere Wohnhaus (apartment building).

In 1897, Otto Wagner, Gustav Klimt, Joseph Maria Olbrich, Josef Hoffmann and Koloman Moser founded the "Vienna Secession" artistic group. From the ideas of this group he developed a style that included quasi-symbolic references to the new forms of modernity.
Wagner died in Vienna in 1918.

WMF

WMF (Württembergische Metallwaren Fabrik) is a tableware manufacturer, founded in 1853 in Geislingen, Germany by a miller Daniel Straub and brother Schweizer. It was originally called "Metallwarenfabrik Straub & Schweizer" and was a metal repairing workshop.

GOLDSCHEIDER

In 1885, Friedrich Goldscheider came from the small Bohemian city of Pilsen to Vienna and founded the Goldscheider Manufactory and Majolica Factory. It became one of the most influential ceramic manufactories of terracotta, faience and bronze objects in Austria with subsidiaries in Paris, Leipzig and Florence. For over half a century Goldscheider created masterpieces of historical revivalism, Art Nouveau (Jugendstil) and Art Deco. Famous artists like Josef Lorenzl, Stefan Dakon, Ida Meisinger and the two perhaps best known Austrian ceramic artists Michael Powolny and Vally Wieselthier worked for Goldscheider. More than 9,000 different models were created over a period of three generations. Since the very beginning many of these won first prizes and gold medals at innumerable world fairs, exhibitions and trade fairs.

FERDINAND PREISS

Ferdinand Preiss (February 13, 1882 - 1943) was a German sculptor. He was born in Erbach as one of six children. Both of his parents died when he was 15 and he became apprentice to an ivory carver. In 1901 he traveled to Italy. He later founded an ivory carving business with Arthur Kassler. Kassler became the business minded partner and Preis controlled artistic production. From 1910 onward he created works that combined ivory with bronze. The firm grew to specialize in limited edition Art Deco cabinet sculptures that used painted bronze with ivory. Preiss designed nearly all the firm's models. The firm closed with Preiss's death from a brain tumor in 1943. Collectors prize his works today.

ART DECO

Art Deco (French: Exposition Internationale des Arts Décoratifs et Industriels Modernes) also known as Style Moderne or 1925 Style, was a twentieth century movement in the decorative arts that grew to influence architecture, design, fashion and the visual arts.

History

The name Art Deco derived from the Exposition Internationale des Arts Décoratifs et Industriels Modernes, a World's Fair held in Paris, France in 1925, though the term was not used prior to the late 1960s. Art Deco was influenced by many different cultures, particularly pre-World War I Europe. The movement occurred at the same time as, and as a response to, the rapid social and technological advances of the early 20th century.

Paris was at the center of the high end of Art Deco design, epitomized in furniture by Jacques-Emile Ruhlmann, the best-known of Art Deco furniture designers and perhaps the last of the traditional Parisian ébénistes, and Jean-Jacques Rateau, the firm of Süe et Mare, the screens of Eileen Gray, wrought iron of Edgar Brandt, metalwork and lacquer of Jean Dunand, the glass of René Lalique and Maurice Marinot, clocks and jewelry by Cartier.

The term Art Deco was coined during the Exposition of 1925 but did not receive wider usage until it was re-evaluated in the 1960s. Its practitioners were not working as a coherent community. It is considered to be an eclectic form of decorative Modernism, being influenced by a variety of sources. Among them were the "primitive" arts of Africa, Egypt, or Aztec Mexico, as well as machine age technology such as the radio and skyscraper. These were expressed in fractionated, crystalline, faceted form of decorative Cubism and Futurism, in Fauvism's palette.

Sources and attributes

Corresponding to these influences, Art Deco is characterized by use of materials such as aluminum, stainless steel, lacquer, inlaid wood, sharkskin (shagreen), and zebraskin. The bold use of zigzag and stepped forms, and sweeping curves (unlike the sinuous curves of the Art nouveau), chevron patterns, and the sunburst motif are typical of Art Deco. Some of these motifs were ubiquitous - for example the sunburst motif was used in such varied contexts as a lady's shoe, a radiator grille, the auditorium of the Radio City Music Hall and the spire of the Chrysler Building.

Art Deco was an opulent style and this lavishness is attributed to reaction of the forced austerity caused by World War I. Its rich, festive character fitted it for "modern" contexts including interiors of cinema theaters and ocean liners such as the Ile de France and Normandie. A parallel movement called Streamline Moderne or simply Streamline followed close behind. Streamline was influenced by manufacturing and streamlining techniques arising from science and the mass production shape of bullet, liners, etc., where aerodynamics are involved. Once the Chrysler Airflow design of 1933 was successful, "streamlined" forms began to be used even for objects such as pencil sharpeners and refrigerators.

Decline

Art Deco slowly lost patronage in the West after reaching mass production, where it began to be derided as gaudy and presenting a false image of luxury. Eventually the style was cut short by the austerities of World War II. In colonial countries such as India, it became a gateway for Modernism and continued to be used well into the 1960s. A resurgence of interest in Art Deco came with graphic design in the 1980s, where its association with film noir and 1930s glamour led to its use in ads for jewelry and fashion. South Beach, Miami, FL has the largest remaining collection of Art Deco architecture remaining in North America.

MAURICE ASCALON

Maurice Ascalon (1913 - 2003) sculptor and industrial designer, is, by some accounts, considered the father of the modern Israeli decorative arts movement. Maurice Ascalon was born Moshe Klein in eastern Hungary. From an early age, he was determined to pursue his artistic yearnings, however in order to do so, he was forced to abandon his ultra-religious Chasidic Jewish roots - for artistic expression was frowned upon in the eastern Hungarian "Shtetl" in which he was raised. When he was 15 years old Maurice left his family and boyhood home to study art at the Academie des Beaux-Arts in Brussels. He took with him an in-depth understanding of the rituals and traditions of the Jewish ceremonies, which knowledge he would later apply to his artistic endeavors.

In 1934, after undertaking his formal artistic training in Brussels and later Milan, Maurice immigrated to the land of Israel (then Palestine). There he met his wife-to-be, Ziporah Kartujinsky, a Polish-born Jew, granddaughter to the distinguished cartographer and scientist of the same surname. (Ziporah, who died in 1982, became a sculptor in her own right late in her life, creating magnificent bas reliefs depicting the Shtetl life of her childhood).

In 1939, Maurice Ascalon designed and created the enormous 14 foot tall hammered repoussé copper relief sculpture of three figures, "The Toiler of the Soil, the Laborer and the Scholar", which adorned the façade of the Jewish Palestine Pavilion of the 1939 New York World's Fair. Maurice was commissioned to create this work for the historically significant Pavilion which introduced the world to the concept of a modern Jewish state. (The work is now part of the collection of the Spertus Museum in Chicago.)
In the late 1930s, Maurice founded an Israeli decorative arts manufacturing company, Pal-Bell, which produced trademark bronze and brass menorahs and other Judaic and secular decorative art and functional items that were exported in large numbers worldwide. Maurice's well-recognized designs, some art deco, others more traditional, introduced the use of a deliberate, chemically induced green patina (verdigris) to Israeli metalwork, which is now a hallmark of Israel's crafts industry. During Israel's War for Independence in 1948, Maurice designed munitions for the Israeli Army and, at the request of the Israeli government, retrofitted his factory to produce munitions for the war effort. In 1956 Maurice immigrated to the United States.

During the latter part of the 1950s through the 1960s, Maurice resided in New York and Los Angeles. He gained a reputation as a master silversmith, creating for synagogues magnificent Torah crowns and other ceremonial objects of Judaica that he first learned of in his youth. For a time, he taught sculpture on the fine arts faculty of the University of Judaism in Los Angeles.
In the late 1970s, Maurice's workshop, now formally dubbed Ascalon Studios, relocated to the Philadelphia area. It became (and still is today, under the direction of Maurice's son, David Ascalon) a multifaceted art studio dedicated to the design of and creation of site-specific art for worship and public spaces.

In February of 2003, Maurice Ascalon celebrated his 90th birthday as a resident of Cuernavaca, Mexico, where he lived with his eldest son, Adir Ascalon (Adir was a surrealist painter and sculptor who collaborated with the noted Mexican muralist David Alfaro Siqueiros). In August of 2003, Maurice died after a long fruitful life. He succumbed to complications related to Parkinson's Disease, an illness he endured during most of the final decade of his life.

Maurice Ascalon's commissions include permanent installations at worship and public spaces throughout the United States, Mexico, and Israel. His works have been exhibited at and are among the collections of institutions including the Jewish Museum (New York), the Museum of American Jewish History in Philadelphia, the Spertus Museum in Chicago, and the University of Judaism in Los Angeles.

ROMAIN DE TIRTOFF (ERTE)

Romain de Tirtoff (pseudonym Erté, a French pronunciation of initials R.T.) (November 23, 1892 - April 21, 1990) was a French artist and designer. Tirtoff was born as Roman Petrovich Tyrtov in St. Petersburg, Russian Empire in a very distingushed family with roots traced back to 1548. His father Pyotr Ivanovich Tyrtov was a Fleet Admiral. In 1910-1912 Romain gradually moved to Paris to pursue a career as a designer. This decision was made over strong objections of his father, who wanted Romain to continue a family tradition and to become a marine officer. Romain assumed the pseudonym to avoid disgracing the family. In 1915 he got his first significant contract with Harper's Bazaar magazine. He was also a designer of costumes and stage sets.

Erté is perhaps most famous for his elegant fashion designs which capture the art deco period in which he worked. His delicate figures and sophisticated, glamorous designs are instantly recognisable, and his ideas and art influence fashion into the 21st century. His fashions were featured in the Ziegfeld Follies and the Folies Bergère.

By far his best known image is 'Symphony in Black', depicting a tall, slender woman draped in black holding a thin black dog. This influential image has been reproduced and copied countless times.

Quotations

"A resourceful woman who is almost downright plain can achieve the reputation of a beauty simply by announcing to everybody she meets that she is one."
"Look at me, I'm in another world - a dream world that invites oblivion. People take drugs to achieve such freedom from their daily cares. I've never taken drugs. I've never needed them. I achieve a high through work."

ALEXANDRA EKSTER

Alexandra Ekster or Exter (January 6, 1882 - March 17, 1949) was a painter (Cubo-Futurist, Suprematist, Constructivist), designer, and one of the founders of Art Deco. She was born in Belostok, Imperial Russia (now Poland) in the wealthy family of A. A. Grigorovich. She studied at Kiev art school, then in 1907 attended Académie de la Grande Chaumière in Montparnasse, Paris. From 1908 to 1924 she intermittently lived in Kiev, Saint Petersburg, Odessa, Paris, Rome and Moscow.

In 1908 she participated in exhibition together with members of the group Zveno (Link) organized by David Burliuk, Wladimir Burliuk and others in Kiev. In 1914 Ekster, together with Kazimir Malevich, Alexander Archipenko, Vadym Meller, Sonia Delaunay-Terk and others, participated in Salon des Indépendants exhibitions in Paris. In the same year she participated in International Futurist Exhibition in Milan. In 1915 she joined the group of avant-garde artists Supremus.

In 1915-1916 she worked in the peasant craft cooperative in villages Skoptsi and Verbovka along with Kazimir Malevich, Yevgenia Pribylskaya, Natalia Davidova, Nina Genke, Liubov Popova, Ivan Puni, Olga Rozanova, Nadezhda Udaltsova and others. Ekster later founded a teaching and production workshop (MDI) in Kiev (1918-1920). Meller, Petrytsky, Red'ko, Chelitschev, Shifrin, Nikritin worked there. Also during this period she was one of the leading names of Alexander Tairov's Chamber Theatre.
In 1919 together with other avant-garde artists Kliment Red'ko and Nina Genke-Meller for Revolution Festivities decorated streets and squares of Kiev and Odessa in abstract style. She worked as a costume designer in a Ballet Studio of the dancer Bronislava Nijinska (Vaslav Nijinsky's sister).
In 1921 she became a director of the elementary course Colour at the Higher Artistic-Technical Workshop (VKhUTEMAS) in Moscow, a position she held until 1924 when she emigrated to France to become a Professor at the Academie der Moderne in Paris. From 1926 to 1930 Ekster was a professor at Leger's Academie d'Art Contemporain. In 1936 she participated in exhibition Cubism and Abstract Art in New York and went on to have solo exhibitions in Prague and in Paris. In 1936 she began working as a book illustrator for the publishing company Flammarion in Paris. She continued in this role until 1949 when she died in Paris suburb Fontanay-aux-Roses.

JOSEPH KISELEWSKI

Sculptor Joseph Kiselewski, 1901-1986, was born in Minnesota, graduating from the Minneapolis School of Art. Along with many other artists of the time, Kiselewski moved to New York City where he studied at the National Academy of Design and at BAID. From 1922 to 1926 he worked as an assistant to Lee Lawrie. He won the Parisian Beaux Arts competition in 1925; received the Prix de Rome in 1926-1929, and was elected an Associate of the National Academy of Design, New York City, in 1936, and an Academician in 1944. He received the J. Sanford Saltus Medal in 1970 for excellence in the art of medallic sculpture. He designed various medals for the US Air Force and the US Army (including those for good conduct) in his lifetime in addition to the American Defense Service Medal.

Four sculptures by Joseph Kiselewski are in the public art collection of the Bronx, in New York City. They include his involvement, in 1932, with several other art deco era sculptors in the creation of Eight Statuary Groups, each 100" x 121" x 70", sculpted from Georgia pink marble, sited at the Bronx County Building, 161st Street & Grand Concourse. Kiselewski's three-feet high granite Frogs, are located at P.S. 18 and Patterson Houses, on Morris Avenue, between 145th and 146th Streets. His bronze Bust of Sylvanus Thayer, 1966, is in the Hall of Fame for Great Americans, Bronx Community College/CUNY, on University Avenue and West 181st Street, as is his bronze Bust of Oliver Wendell Holmes, Jr., 1970.
In 1977 and 1980, Joseph Kiselewski donated his papers, covering the period, 1923-1980, to the Archives of American Art, Smithsonian Institution, Washington, D.C. Included in the papers were biographical material; award and teaching certificates; files on sculpture commissions containing contracts, correspondence, financial records, sketches, printed material, notes and photographs; approximately three hundred photographs of the sculptor, his studio, and his work; 2 pencil drawings; and other items.

George Gurney, a Washington, D.C. curator and art historian interviewed twenty-one sculptors in 1977-1978, one of which was Joseph Kiselewski, for an exhibition, "Sculpture and the Federal Triangle," held at the National Museum of American Art, October 26, 1979 through January 6, 1980. While Gurney conducted most of the interviews on tape, there is only a questionnaire answered by Kiselewski, which is part of the Gurney material, also on file in the Archives of American Art, Smithsonian Institution, Washington, D.C.

PAUL MANSHIP

Paul Howard Manship (December 24, 1885 - January 28, 1966) was a prominent American sculptor of the 20th century.

Paul Manship began his art studies at the St. Paul School of Art in From there he moved to Philadelphia and continued his education at the Pennsylvania Academy of Fine Arts. Following that he migrated, as so many artists do, to New York City where he enrolled in the Art Students League where he studied anatomy with George Bridgman and modeling under Hermon McNeil. From 1905 to 1907 he served as an assistant to sculptor Solon Borglum and spent the two years after that studying with Charles Grafly and assisting Isidore Konti.

In 1909, at Konti's urging, he entered the competition for, and won, the highly sought after Prix de Rome and shortly there after encamped for Rome where he attended the American Academy from 1909 till 1912. While in Europe he became increasingly interested in Archaic art and his own work began to take on some archaic features and he became more and more attracted to classical subjects. He also developed an interest in classical sculpture of India, and traces of that influence can be observed in his work (see "Dancer and Gazelles" in Images). Manship was one of the first artists to become aware of the huge art history that was being excavated at the time and so became intensely interested in Egyptian, Assyrian and pre-classical Greek sculpture.

When he returned to America from his European sojourn Manship found that his style was attractive to both modernists and conservatives. His simplification of line and detail appealed to those who wished to move beyond the Beaux-Arts classical realism prevalent in the day. Also, his view of and use of a more traditional "beauty" as well as an avoidance of the more radical and abstract trends in art made his works attractive to the more conservative art collectors.

Because the volume of work that he was commissioned to do was very great, he produced over 700 works in his career, Manship always employed assistants of the highest quality and two of them, Gaston Lachaise and Leo Friedlander went on to create significant places for themselves in the history of American sculpture.

Manship's work is often considered to be a major precursor to Art Deco.
Manship was very adept at low relief and used these skills to produce a large number of coins and medals, one of his later ones being the John F. Kennedy inaugural medal.
Although not known as a portraitist, he did produce statues and busts of Theodore Roosevelt, Samuel Osgood, John D. Rockefeller, Robert Frost, Gifford Beal and Henry L. Stimson.
Manship was chosen by the American Battle Monuments Commission to create monuments following both the First and Second World Wars. There are located respectively in the American Cemetery at Thiaucourt, France in 1926, and in the military cemetery at Anzio, Italy.

WALTER DORWIN TEAGUE

Walter Dorwin Teague (December 18, 1883 - December 5, 1960) was an Art Deco designer. He designed cameras for Eastman Kodak, glassware for Steuben and Texaco gas stations.

The company's work with Boeing began in 1946 with the design of the Stratocruiser's passenger aircraft interior. This relationship with Boeing has lasted more than 60 years with Teague's Aviation Studios work on every Boeing aircraft including the 707, 747, 777 and 787.

Walter Dorwin Teague and his son of the same name made contributions to many basic industrial and consumer products, including the A.B. Dick Mimeograph to Cold War missiles like the Lark and Loki. He even built structures in the Soviet Union for the United States Information Agency. His firm's Steinway Peace Piano, built for the 1939 New York World's Fair, is now at the Smithsonian. The firm's design for the porcelain-clad Texaco station became an icon of post-war America as much as their original Polaroid Land camera. Teague Associates' product designs are in major museums around the world including the Wolfsonian ( http://www.wolfsonian.org/collections/c4/index.html) and Cooper-Hewitt. In Virginia, Roanoke's Art Museum of Western Virginia held an exhibition, sponsored by Norfolk Southern, that included the firm's work.

Teague's son won an award from the Industrial Designers Institute for a fully-reclinable dentist's chair, which allowed dentists to sit while working on patients.

Teague's legacy continues today as his company Walter Dorwin Teague Associates remains an important industrial design consultancy. Based in Seattle, Washington, Teague has worked with clients such as Hewlett-Packard, Microsoft and Boeing.
Teague designed the Centennial Dome in Richmond, Virginia.

ALBERT ANIS

Albert Anis (1889-1964), was a renowned Art Deco Architect. He was one of a group of American-born architects working in Miami Beach who synthesized the austere architectural principles of the International Style with their own brand of modernism which embraced the ornamentation and exotic lure of tropical Miami Beach.

ERNEST CORMIER

Ernest Cormier, OC (December 5, 1885-January 1, 1980) was a Quebec engineer and architect who spent much of his career in the Montreal area, erecting notable examples of Art Deco and International style architecture. He first graduated as an engineer from Ecole Polytechnique in Montreal and then studied at the Ecole des Beaux Arts in Paris where he received the Prix de Rome in 1914.
His major work is the central building of the Université de Montréal on the North slope of Mount Royal. This huge example of the Art Deco style was built between World War I and the middle of World War II and kept in a nearly pristine shape over the decades. The only major destruction of his designs took place within the interior spaces. They occurred in the 1970s when the great multistory hall of the central library was filled up with several smaller, one story rooms for the faculty of medicine and its library.

Another important example of Cormier's work can be found on another Québec university campus, the Casault pavilion of Université Laval, familiarly known by students as the 'Louis-Jacques'. Designed in 1948 but only completed in 1960, it is a massive cathedral-like building, originally designed as Québec City's Grand Séminaire, which is particularly spectacular viewed from a distance along the impressive mall that runs along the East-West axis of the campus grounds. (see photo: [1]) Despite an unfortunate renovation scheme in the 1970s that gutted the chapel, filled in the magnificent enclosed courtyard and transformed the interior into an undecipherable labyrinth, the building has become the most recognized landmark of the second oldest university in North America and home to Laval's faculties of Music and Communications, as well as to Québec's National Archives.
Cormier's own house, on Montreal's avenue des Pins, is one of the finest examples of an Art Deco home in the world. Pierre Trudeau purchased the building and lived there following his retirement until his death in 2000.

Cormier is also responsible for the magnificent Supreme Court of Canada building in Ottawa and was a design consultant for the United Nations building in New York.
In addition to showing a great balance, in most of his buildings, between the disciplines of engineering and architecture, Cormier also had great skills as a painter and illustrator. He has left us many stunning renderings of his works, done in the planning stages.

In 1974, Cormier was inducted into the Order of Canada by Governor General Jules Léger, and received numerous honours and awards.

CHARLES HENRY HOLDEN

Charles Henry Holden (12 May 1875 - 1 May 1960) was an English architect known for his designs of stations on the London Underground railway system.

Holden's childhood in Bolton was not easy. His father's drapery business went bankrupt, and his mother died when he was eight. After leaving school, he worked first as a railway store clerk, and as a chemical laboratory assistant.

His brother-in-law, Frederick Green, a land-surveyor, employed Holden at the age of twenty to be apprenticed to E. W. Leeson, a Manchester architect. He studied at the Manchester School of Art and Technical College, with such success that he soon was soon teaching. Around 1896, Holden revealed his grasp of architectural form in designs he submitted to the Building News Designing Club, using the pseudonym 'The Owl'.

Holden's friends in Manchester included artist Francis Dodd (1874-1949) and Dodd's brother-in-law, the etcher and draughtsman Muirhead Bone who, with his brother, James, remained lifelong friends.
Modestly believing that architecture was a joint effort, Holden twice declined the offer of a Knighthood.
Charles Holden's great-niece Dr Jean Ward in 1999 presented to the RIBA Architectural Library Drawings Collection many topographical drawings, family photographs and ephemera by or relating to him. They joined a large body of material acquired in the 1970s at the closure of his partnership, Adams, Holden & Pearson.

Works

Developing his career as an architect, Holden undertook some major assignments. In 1907, he designed the British Medical Association Building on the Strand in London, now Zimbabwe House.
From the 1920s to the 1940s Holden was architect for numerous projects for the London Electric Railway Company and later London Transport (now Transport for London). Throughout this period, he worked closely with the organisation's Managing Director Frank Pick who championed good design throughout the business. The earliest of Holden's commissions from Pick included stations on the southward extension of the Northern Line to Morden in 1925-6 and a new company headquarters in 1927-9.

A revival of 18th century monumental styles then dominated British architecture. In contrast, Holden's designs for the Northern Line stations and 55 Broadway headquarters, over St. James's Park tube station, were original and modern: Holden produced not just a building, but a complete design. For 55 Broadway, he commissioned a series of sculptures for the exterior of the building from contemporary artists including Jacob Epstein, Eric Gill and Henry Moore. The most controversial - considered indecent at the time - were the two groups by Epstein, Day and Night. His attention to this kind of detail typefied Holden's commitment to total design.

Holden also produced the designs for the improvements of Piccadilly Circus (1925) and Leicester Square (1931). These congested central London interchanges were rebuit with spacious new below ground concourses and escalators to replace the original sets of lifts.

The 1930-3 Piccadilly Line extensions both north and west, gave Pick and Holden the chance to develop a new type of station. Aiming for a striking and inviting modern appearance, they adapted for English surroundings simple, geometric styles and exposed brickwork they saw on the Continent. This led to their 'classic' style of Underground architecture, using clean, simple forms - cylinders, curves, rectangles - built of brick and concrete and often decorated internally with brightly coloured tiles. All parts of a building were to be harmonious, all aspects integrated into the design. This included interior and exterior lighting, platform seats, clocks, kiosks, ticket machines and even litter bins. For London Transport's bus operations Holden also designed bus shelters.

Sudbury Town first demonstrated this style, opening on 19 July 1931. At least 17 other similar stations soon followed. A number of them - including Enfield West (now Oakwood), Southgate, Arnos Grove and the original Sudbury Town - were in 1971 designated as of "special architectural interest", as was the 55 Broadway headquarters building.

In the mid 1930s Holden designed new stations for the Northern Line's Northern Heights Plan, but much of the project was postponed by World War II and later cancelled. Only East Finchley was completed in full and Highgate in part. Impressive designs for the reconstruction of Edgware and the new stations on the Bushey Heath extension were scrapped.
Holden's designs for the new and rebuilt stations on the Central Line extensions faired better, although they too were delayed by the war. They were not completed until the late 1940s and the designs were somewhat reduced by post-war austerity measures when compared to the stations built in the 1930s. Amongst these, Gants Hill is notable for the design of its platform level which was inspired by stations Holden had seen in the 1930s on the Moscow Metro.

Senate House, University of London

The University of London had existed since 1838, but a major reform in 1900 indicated the need for an administrative headquarters; for this, in the words of Lord Haldane "ought to be the chief centre of learning in the entire Empire, perhaps the chief centre of learning for the entire world".
Charles Holden won the commission to design the new buildings for the University of London in competition with Sir Giles Scott amongst others. Holden's original plan, published in 1931, was more ambitious than what was eventually built. It had an enormous linear spine with 2 towers and 17 courtyards that extended from the British Museum to Byng Place; it would have dominated much of central London and would have taken decades to build. Only Senate House, the first part of the approved scheme, was built, incorporating the Library.
Holden designed the tower to taper, to "appear with quiet insistence", yet it was the tallest building in London (except for St. Pauls Cathedral) for a number of years, and was in effect "London's first skyscraper". It was Holden's last building.

WILLIAM VAN ALEN

William Van Alen (1883 - May 24, 1954) was best known as the architect in charge of New York City's Chrysler Building.
Van Alen was born in Brooklyn, New York in 1883. While he attended the Pratt Institute in Brooklyn, he worked in the office of Clarence True. He also worked for several firms in New York, before he won the 1908 Lloyd Warren Fellowship which allowed him to study in Europe. In Paris, Van Alen studied in the atelier of Victor Laloux at the Ecole des Beaux-Arts.
In 1911, Van Alen returned to New York City, where he formed a partnership with H. Craig Severance. The partnership became known for its distinctive multistory commercial structures which abandoned the historic formula of base, shaft, and capital. The partnership dissolved around 1925 and Van Alen continued to practice on his own in New York.

Van Alen is best known for his design of the Chrysler Building, often praised as the greatest example of Art Deco-style skyscrapers and the perfect monument to American capitalism. Although the Chrysler Building is now highly regarded, his career suffered after its completion due to accusations made against him by the powerful client, Walter Chrysler.

RALPH THOMAS WALKER

Ralph Thomas Walker (1889-1973) was an American architect.
In 1907, at the age of 18, Walker was apprenticed to Providence, Rhode Island architect Howard K. Hilton. The three year apprenticeship paid one dollar a week for the first year, two a week for the second year and three a week for the third. While working there Walker attended classes at MIT and after two years had moved up to a design position, paying nine dollars a week.
Following his sojourn with Hilton and Jackson, where he met his future wife, Stella Forbes, Walker was employed in 1916 by McKenzie, Voorhees and Gmelin, an important New York firm that was the successor firm to the one begun by Cyrus L.W. Edlitz in 1885. Walker was to remain there for the remainder of his career. Walker's 1923 design of the Barclay-Vesey Building in New York City is credit as being the first skyscraper in which the New York 1916 Zoning Ordinances were treated as a design asset. His design was to lead to a generation of skyscraper built using the step back principle. This building was also arguably the first art-deco skyscraper.
STREAMLINE MODERNE
Streamline Moderne, sometimes referred to by either name alone, was a late branch of the Art Deco style. The style emphasized curving forms, long horizontal lines, and sometimes nautical elements (such as railings and porthole windows). It reached its height in 1937.
The style was the first to incorporate electric light into architectural structure. In the First Class dining room of the SS Normandie, fitted out 1933 - 35, twelve tall pillars of Lalique glass and 38 columns lit from within illuminated the room. The Strand Palace Hotel foyer (1930), preserved from demolition by the Victoria and Albert Museum in 1969, marked one of the first uses of internally-lit architectural glass, and coincidentally was the first Moderne interior preserved in a museum.

THE INTERNATIONAL STYLE
The International style was a major architectural trend of the 1920s and 1930s.The term usually refers to the buildings and architects of the formative decades of modernism, before World War II. The term had its origin from the name of a book by Henry Russell Hitchcock and Philip Johnson which identified, categorised and expanded upon characteristics common to modernism across the world. As a result, the focus was more on the stylistic aspects of modernism. The basic design principles of the international style thus constitute part of modernism.

Europe

Around 1900 a number of architects around the world began developing new architectural solutions to integrate traditional precedents with new social demands and technological possibilities. The work of Victor Horta and Henry van de Velde in Brussels, Antoni Gaudi in Barcelona, Otto Wagner in Vienna and Charles Rennie Mackintosh in Glasgow, among many others, can be seen as a common struggle between old and new.

The international style as such blossomed in 1920s Western Europe. Researchers find significant contemporary common ground among the Dutch de Stijl movement, the work of visionary French/Swiss architect Le Corbusier and various German efforts to industrialize craft traditions, which resulted in the formation of the Deutscher Werkbund, large civic worker-housing projects in Frankfurt and Stuttgart, and, most famously, the Bauhaus. The Bauhaus was one of a number of European schools and associations concerned with reconciling craft tradition and industrial technology.
By the 1920s the most important figures in modern architecture had established their reputations. The big three are commonly recognized as Le Corbusier in France, and Ludwig Mies van der Rohe and Walter Gropius in Germany.

The common characteristics are easy to identify: a radical simplification of form, a rejection of ornament, adoption of glass, steel and concrete as preferred materials, the transparency of buildings and, thus, the construction (called the honest expression of structure), acceptance of industrialized mass-production techniques and the machine aesthetic, acceptance of the automobile, design decisions that logically support the function of the building, and a vague but exciting sense of the future.

The ideals of the style are commonly summed up in four slogans: ornament is a crime, truth to materials, form follows function, and Le Corbusier's description of houses as "machines for living".
In 1927, one of the first and most defining manifestations of the International Style was the Weissenhof Estate in Stuttgart, built as a component of the exhibition "Die Wohnung," organized by the Deutscher Werkbund, and overseen by Mies van der Rohe. The fifteen contributing architects included Mies, and other names most associated with the movement: Peter Behrens, Le Corbusier, Walter Gropius, J.J.P. Oud, Mart Stam, and Bruno Taut. The exhibition was enormously popular, with thousands of daily visitors trooping through the houses.

The town of Portolago (now Lakki) in the Greek Dodecanese island of Leros represents some of the most interesting urban planning from the fascist regime in the Dodecanese; an extraordinary example of city takeover in the International style known as Italian rationalist. The symbolism of the shapes is reflected with exemplary effectiveness in the buildings of Lakki: the administration building, the metaphysical tower of the market, the cinema-theatre, the Hotel Roma (now Hotel Leros), the church of San Francesco and the hospital are fine examples of the style. Many of its ideas and ideals were formalized by the 1928 Congrès International d'Architecture Moderne.

United States

In 1922, the competition for the Tribune Tower and its famous second-place entry by Eliel Saarinen gave a clear indication of what was to come.
The term International Style came from the 1932 exhibition at the Museum of Modern Art, organized by Philip Johnson, and from the title of the exhibition catalog for that exhibit, written by Johnson and Henry Russell Hitchcock. It addressed building from 1922 through 1932. Johnson named, codified, promoted and subtly re-defined the whole movement by his inclusion of certain architects, and his description of their motives and values. Perhaps the masterstroke was the name, and the positioning of this style as one that transcended any national or regional or continental identity.
Johnson also defined the modern movement as an aesthetic style, rather than a matter of political statement. This was a departure from the functionalist principles of some of the original Weissenhof architects, particularly the Dutch, and especially J.J.P. Oud, with whom Johnson maintained a prickly correspondence on the topic.

The gradual rise of the National Socialist regime in Weimar Germany in the 1930s, and the Nazi's rejection of modern architecture, meant that an entire generation of architects were forced out of Europe. When Walter Gropius and Marcel Breuer fled Germany, they both arrived at the Harvard Graduate School of Design, in an excellent position to extend their influence and promote the Bauhaus as the primary source of architectural modernism. When Mies fled in 1936, he came to Chicago, and solidified his reputation as the prototypical modern architect.
After World War II, the International Style matured into modernism, HOK and SOM perfected the corporate practice, and it became the dominant approach for decades. Perhaps its most famous/notorious manifestations include the United Nations headquarters and the Seagram Building in New York.

Elsewhere

One of the strengths of the International Style was that the design solutions were indifferent to location, site, and climate. This was one of the reasons it was called 'international'; the style made no reference to local history or national vernacular. They were the same buildings around the world. (Later this was identified as one of the style's primary weaknesses.)

American anti-Communist politics after the war, and Philip Johnson's influential rejection of functionalism, have tended to mask the fact that many of the important contributors to the original Weissenhof project fled to the east. This group also tended to be far more concerned with functionalism. Bruno Taut, Mart Stam, the second Bauhaus director Hannes Meyer, Ernst May and other important figures of the International Style went to the Soviet Union in 1930 to undertake huge, ambitious, idealistic urban planning projects, building entire cities from scratch. This Soviet effort was doomed to failure, and these architects became stateless persons in 1936 when Stalin ordered them out of the country and Hitler would not allow them back into Germany.
In the late 1930s this group, and their students, were dispersed to Turkey, France, Mexico, Kenya and India, adding up to a truly international influence.

In July, 2003, UNESCO, the United Nations Educational, Scientific and Cultural Organization, proclaimed The White City of Tel Aviv as a World Cultural Heritage site, describing the City as "a synthesis of outstanding significance of the various trends of the Modern Movement in architecture and town planning in the early part of the 20th century".

All information from www.wikipedia.com
ART DECO ANTIQUE DEALERS
We have been interested in Art Deco ceramics and collectibles for many years now and started collecting Clarice Cliff and Shelley back in the late 80s. We find the different patterns and shapes fascinating and the whole Clarice story of her going from 'rags to riches' intriguing. We are a family business committed to finding and supplying items of the highest quality to our many customers, SECRETS ART DECO

We can recommend one of the world's leading dealers in fine Art Deco furniture and design. Jazzy Art Deco of London & Paris. www.jazzyartdeco.com
Decodame have a large selection of French Art Deco Furniture, Lighting and Jewellery, plus post war design and interiors www.decodame.com
For a collection of Art Deco furniture from the continent visit Montparnasse at www.montparnasse.co.uk
For a collection of all Art Deco design and objects visit Art Deco World at www.artdecoworld.com
For a collection of Art Deco jewellery, scent bottles and much more visit Deco Girl at www.decogirl.co.uk
For Art Deco and Machine Age classics, visit Decollect at www.decollect.com
For the best in both Art Deco and Art Nouveau I can highly recommend one of the most experienced and professional dealers, Audrey Sternshine. www.artnouveau-artdeco.com
Original Art Deco pottery including Clarice Cliff, Susie Cooper, Shelley and other leading British designers. www.decodance.com
Original Clarice Cliff pottery. www.claricecliff.org.uk
Evelynne's Oldies But Goodies, selling Vintage Bakelite Jewellery, Bakelite for the Home, Vintage Purses, etc www.rubylane.com/shops/evelynnesoldiesbutgoodies
Art Decor Designs supplies art deco inspired, original luxurious, hand printed soft furnishings,
currently comprising versatile one size throw,which will fit single, double and kingsize beds
and cushions in 2 themes, Dancing Girls and Diana on horseback. ART DECOR DESIGNS
We have been notified of a new Art Deco website, ART DECO EXPRESS who have a large selection of bronzes, ceramics, glass and more.
Southern Posters is simply a unique collection of railway posters, advertisements, brochures, artwork and other ephemera produced by or associated with the Southern Railway, with an emphasis on the beautiful Art Deco poster. SOUTHERN POSTERS
Deco Delilah sells vintage Art Deco jewellery from around the world DECO DELILAH
Helene Turgeon is an artist working today in art deco inspired art, see HELENE TURGEON